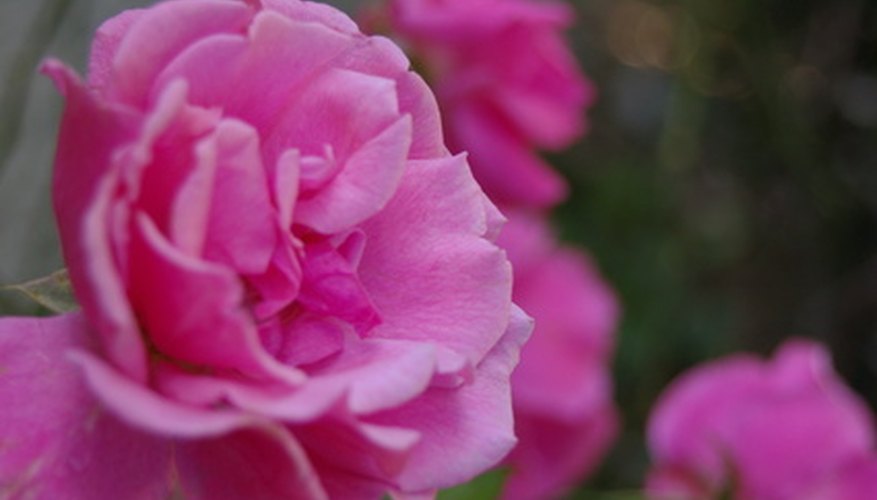 As someone who grows roses, you may look forward to masses of bright, fragrant blossoms in the spring and summer. Unfortunately, many roses can suffer and die during the cold winter months. Without proper care, these blossoming bushes may freeze before the spring temperatures begin to warm up the soil. Proper care of your rose bushes prior to the onset of winter can protect them during the frigid temperatures and prepare them for abundant growth in the spring.
Prune your rose bushes after the flowers wilt and the leaves begin to drop in the late fall. This signifies the beginning of the dormancy period. Look for any broken branches or diseased sections of your rose bushes. Trim these off the plant a couple of inches above the damage to ensure only healthy segments remain. Check your rose bush for the appearance of crowded branches that cross over one another. Snip off the weakest branch below the point where it crosses another branch. Cut out any new suckers that form near the surface of the soil. Shape your rose bush to maintain the desired size and appearance. Avoid heavy pruning by removing less than one-third of the bush when pruning.
Tie the remaining canes of your rose bushes together with a strong, soft piece of garden twine. Gently gather the tips into a bunch and secure with a few loops of your twine. Leave this twine in place until the ground begins to thaw in the spring.
Pile soil around the tied canes with a garden shovel. Take well-drained soil from another part of your landscape to avoid disturbing the roots. Make your mounds about 10 inches high around the bases of your rose bushes.
Place a loop of chicken wire around each of your rose bushes. Leave about four to five inches of space between the branches of your rose bush and the edges of the wire cylinder. Hold the chicken wire cylinder in place with a couple of garden stakes. Fill the cylinder with clean straw or raked leaves to provide a layer of insulation between the rose bushes and the winter air. Remove this mulch as soon as the temperatures begin to warm in the springtime.