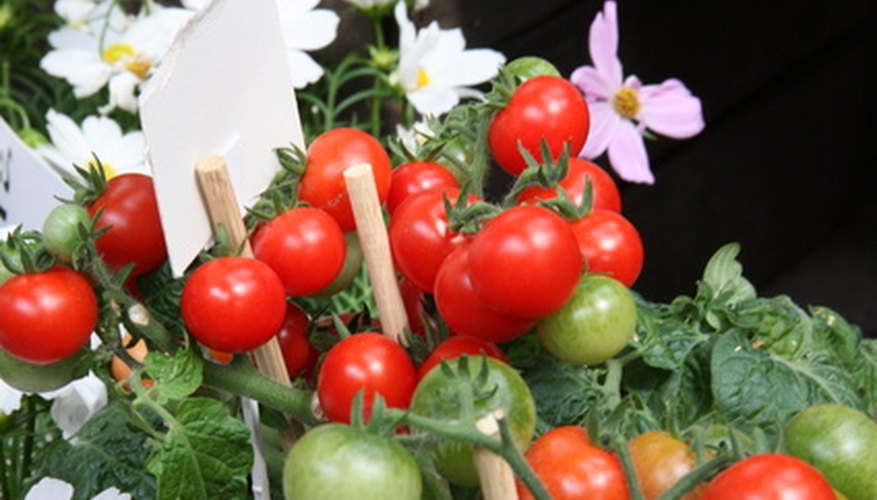 Coconut fiber hanging basket liners are good alternatives to moss or plastic liners because they drain well and are strong. Good drainage is necessary to grow vegetables in hanging baskets. Natural tree sap is used as glue to hold the liner together, so there is no chemical residue on the vegetables. Coconut fiber liners can be added to the compost pile after they've served their purpose.
Tomatoes
Dwarf tomatoes have abundant growth and harvests on plants that are 3 to 4 feet long. Provide soil rich in nutrients, such as compost, when you plant the basket. 'Summer Cherry' and 'Tiny Tim' are two varieties that do especially well in a hanging basket. 'Costaluto Genovese' is a tomato variety with 6- to 8-ounce fruit that has a very earthy, old-fashioned tomato taste. Tomatoes grown in baskets dry out quickly and may need watering several times a week. To add an unusual color to the basket, plant 'Tigerella Orange Slicing Tomato'. It bears small to medium fruit that are striped reddish-orange and yellow.
Salad Greens
lettuce and tomato image by Paolo Frangiolli from Fotolia.com
Vegetables such as salad greens do well in hanging baskets that are placed in partial shade. Coconut fiber hanging basket liners retain moisture well, which prevents root rot. Just three to four hours of morning sun are optimal for the delicate lettuce leaves. One hanging basket can accommodate an entire lettuce collection.
Varieties that do well in baskets are 'Thai Green Lettuce', 'Merlot Lettuce' and a romaine called 'Blushed Buttercos'. Plant radishes along with lettuce for added color. During hot weather the lettuce basket may need to be watered daily and misted with a spray bottle.
Squash and Cucumber
Many dwarf varieties of squash and cucumbers can be grown in coconut fiber baskets. 'Golden Scallopini' is a 3- to 4-inch scalloped edge yellow squash that is ready to eat in 55 days. Squash plant stems and leaves spread to 3 or 4 feet so one plant per hanging basket is adequate. Vegetables that need partial shade, such as lettuce, grow well under the large squash leaves. Dwarf variety cucumbers such as 'Lemon Apple' can also be grown in hanging baskets. This heirloom variety produces small round yellow cucumbers. Fertilize vegetables once every two weeks with a homemade or commercial organic compost. Adjust the amount according to directions for containers. Organic fertilizer will not burn plants.