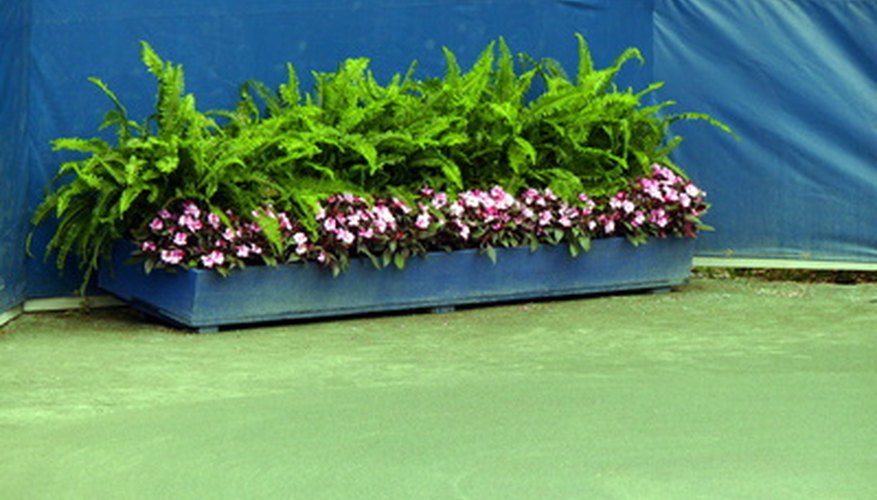 Planter boxes might be rectangular or square and they can be made of a variety of different materials. Many gardeners enjoy using planter boxes around a landscape area, especially on patios, decks and at entrances to homes. Choose bright and colorful flowers to create a planter box display. As the summer progresses, your flowers will fill out in the planter box as a lush and lovely landscape focal point.
Select flower plants that will thrive in the light conditions where you plan to place your planter box. Plants that require full sun need at least eight hours of sun each day. Plants that require partial sun need four to eight hours of sun each day. Plants that require shade can tolerate fewer than four hours of sun each day (with early-morning sun preferred). Use a variety of plants that grow to different heights to create a pleasing display.
Fill the planter box approximately two-thirds full with potting soil.
Plan the flowers in the planter box. Arrange the tallest flowers at the back of the planter box. Place the shorter flowers in the center of the planter box. Arrange the vining plants at the front of the planter box so they will spill over the edge of the planter.
Dig individual holes for the flowers using the trowel. Plant each flower so it is at the same depth as it was growing in its temporary container. Dig holes for the vining plants at the front of the planter box. Add potting soil around the top of the planter box to ensure the box has enough soil.
Place the planter box in its growing location. Keep the soil evenly moist by daily or every-other-day watering. Because you used a potting soil with time-release fertilizer, you will not need to fertilize the plants for approximately four months. After three months, if the flowers appear to slow down in growth and vitality, fertilize them with an all-purpose fertilizer twice per month (mix the fertilizer with water according to package recommendations).
Deadhead the flowers with the pruning shears by cutting the spent flowers off just below the blossoms. Deadheading will keep the planter box looking neat and will encourage continued blooming.
Things You Will Need
Flower plants (in varying heights)

Planter box (with bottom drainage holes)

Potting soil (with time-release fertilizer)

Trowel

Vining plants

All-purpose fertilizer

Pruning shears