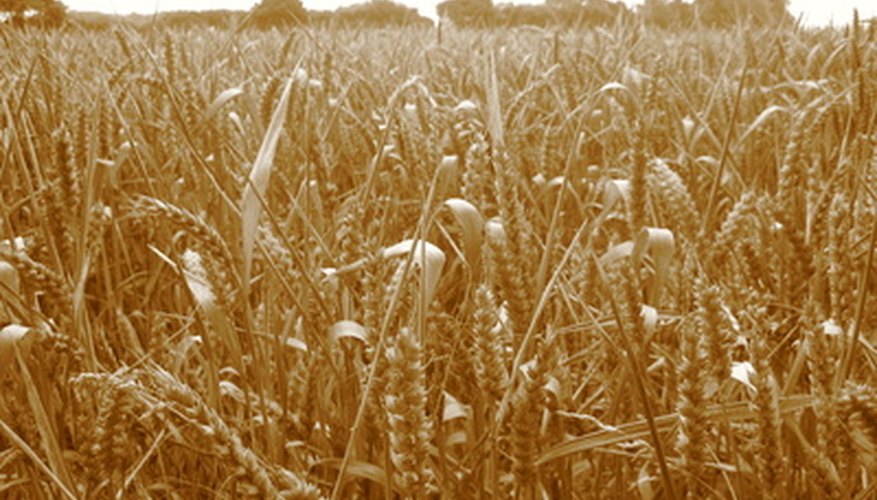 Curtail is an herbicide used to control broadleaf weeds in wheat and barley. Curtail is produced by Dow AgroSciences, and its active ingredients are clopyralid and 2,4-D amine. Curtail herbicide is best applied by a professional, but if you choose to use this chemical herbicide, you will need to follow all of the safety precautions. This product is hazardous to humans and animals.
Put on a long shirt and long pair of pants. Make sure you are also wearing socks and shoes. It is important to keep your skin covered as Curtail herbicide can cause irritation to the skin.
Put on protective eyewear, chemical-resistant gloves and a chemical-resistant apron. These will further protect you from injury from the Curtail herbicide.
Wait to mix and apply your Curtail herbicide for a day when the wind is less than 15 mph, and rain is not expected for six hours.
Pour your water into a backpack sprayer. Your Curtail herbicide is concentrated and must be diluted with water.
Add the Curtail herbicide. Place the lid on the backpack sprayer and give it a shake to mix the two ingredients. This will be enough herbicide to cover 1,000 square feet.
Spray over the weeds you want to kill. It helps to apply the herbicide methodically (moving from left to right, or right to left) so that you do not miss any spots.
Things You Will Need
Long shirt

Long pants

Shoes and socks

Protective eyewear

Chemical-resistant gloves

Chemical-resistant apron

Backpack sprayer

1 gallon water

1 fl. oz. Curtail herbicide
Tips
Remove and wash your clothing as soon as you have finished using Curtail herbicide. Then wash your hands.

Store leftover Curtain herbicide away from children and pets in a location that remains above 40 degrees F.
Warning
Call 1-800-992-5994 if you have an emergency while using this product.