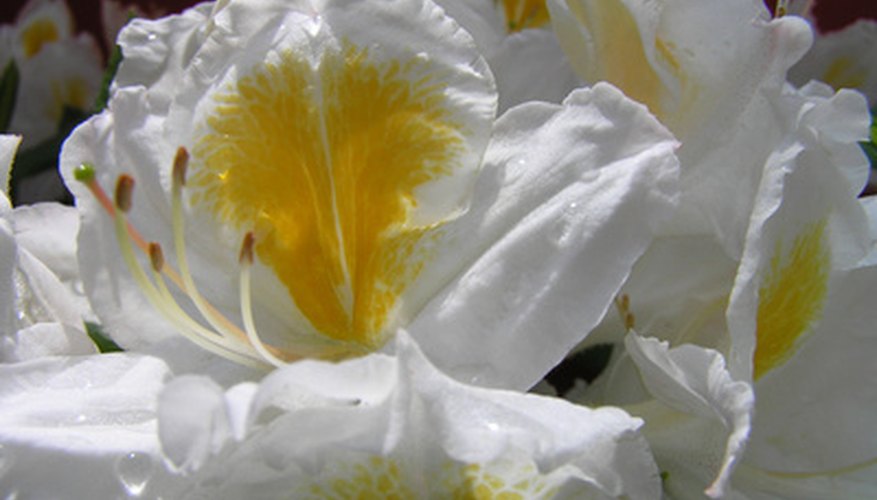 Organizations such as the North Carolina Native Plant Association have a mission to protect and conserve both the native plants and their habitat. Gardeners in North Carolina help by buying and planting native plants and by not removing any from their wild environment. Conscious gardeners enjoy the beauty of plants that are hardy in their area and allow the wild ones to multiply and thrive.
Red Buckeye
Red buckeye (Aesculus pavia) is a deciduous tree or shrub that grows from 8 to 12 feet tall with dark-green, compound leaves made up of five leaflets, each one from 2 to 5 inches long. Red flowers, which never open, grow up to 1-1/2 inches long in clusters from 3 to 6 inches long. The flowers are followed by flat, round seed pods, maturing in October. Plant red buckeye in full sun and a moist, well-drained soil.
Bushy Seaside Tansy
Bushy seaside tansy (Borrichia frutescens), also known as ox-eye daisy, sea daisy and sea ox-eye, is found growing in marshes and along the coastal areas. The plant is salt tolerant, making it a great choice for planting near the beach. Bushy seaside tansy grows up to 3 feet tall with oval-shaped, fuzzy, gray-green, semi-evergreen leaves and yellow flowers that resemble a daisy and bloom in July and August. Plant in full sun and a moist soil. Bees and butterflies will come by for the nectar, and birds will make a meal out of the seeds.
Tuberous Grasspink
Tuberous grasspink (Calopogon tuberosus) is a member of the orchid family. The plant grows from 2-1/2 to 4 feet tall with long, thin, grass-like leaves and rose-pink to pale orchid colored flowers measuring 2 inches across that bloom from March through August.
American Persimmon
American persimmon (Diospyros virginiana) is a deciduous tree that grows up to 50 feet tall with elliptic-shaped leaves dark-green on top and pale green underneath from 4 to 6 inches long. Male and female flowers grow in different trees with the female trees producing orange fruits up to 2 inches in diameter. Plant American persimmon in full sun or partial shade. The tree is adaptable to different degrees of moisture from drought to brief floods, but prefers a moist soil.
Rosebay Rhododendron
Rosebay rhododendron (Rhododendron maximum) prefers partial shade and a moist, cool, organic-enriched, well-drained soil. This plant needs to be protected from the wind and excessive heat. Rosebay rhododendron is an evergreen shrub that grows from 8 to 30 feet tall. Two-tone, thin leaves are dark green on the top and green or rust on the underside and grow from 4 to 8 inches long. Rose-pink, pink margined, or nearly white flowers measure 1-1/2 inches across, grow in clusters of as many as 25, and bloom in June.