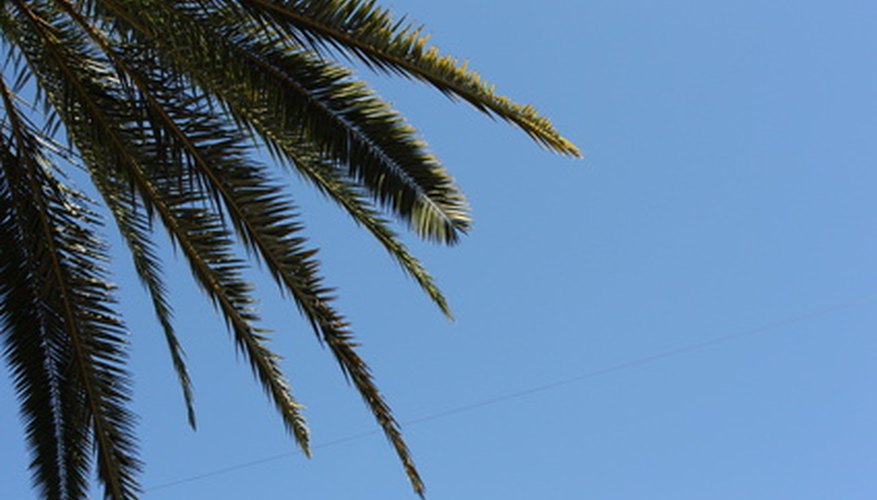 Palm trees add a tropical atmosphere to a landscape and are often planted around pools and patios in warmer regions of the U.S. They are native to the tropical regions of the globe and can be seen in commercial and residential landscapes in Southern Florida as well as the southern and coastal regions of Texas. The biggest drawback to planting palm trees in other parts of Texas is they often freeze to death when temperatures dip into the teens, which happens every few years as far south as Central Texas. However, some varieties of palm trees will grow in cooler parts of the state.
Choose a palm tree that is appropriate for your planting area. For most of Texas, including the colder North Texas areas, appropriate palm varieties are: Chinese Windmill Palm (Trachycarpus fortunei,) Sabal Palm (Sabal mexicana,) Washington Palm (Washington filifera,) or Meditteranean Fan Palm (Chamaerops humilis.)
Find a well-drained location to plant your palm trees. Although some palms are cold-hardy in Texas, it helps them survive a cold winter if you plant them in a protected location such as near a south facing wall or an area that is protected from the cold north wind.
Plant palm trees, using a shovel, at the same level they are planted in the container so the palm trees do not have to adjust to a new soil level. Cover the soil over the root base of the palm trees with a 3-inch layer of mulch to preserve moisture and control weeds. Leave a gap of 1 inch between the palm tree and the mulch so the rotting mulch cannot spread rot or mildew to the base of the palm tree.
Fertilize with a granulated organic fertilizer in the spring at the recommended rate for trees and shrubs that is printed on the fertilizer container label. Fertilize your palm trees in spring, summer and fall.
Add water to the base of the palm tree beginning in early spring, which is March in Texas. Deeply soak the area, so the moisture reaches a level of 1 foot, around the root base every two weeks. Withhold water after November unless the Texas winter is unusually dry. The palm trees will begin to rot at the base if they receive excess water during the winter. When watering a palm, water the root base only. Adding water over the top of the tree causes mildew problems on the foliage and trunks of the palm trees.
Things You Will Need
Palm tree

Shovel

Mulch

Granulated organic fertilizer