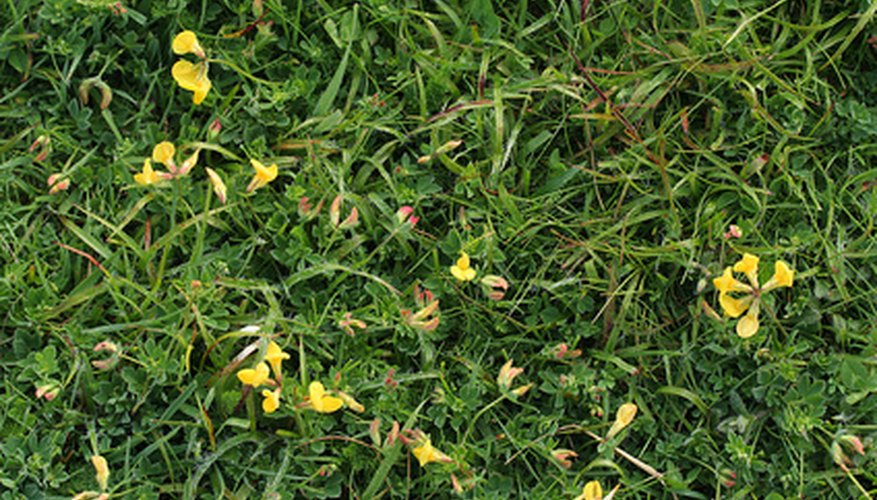 Low-growing, dense plants often are used as ground cover, a sort of living mat that covers empty areas of the area or provides negative space that better accents flashier plants. But not all gardeners want their ground cover to fade into the distance. A number of ground cover flower types exist that can be used to give a little extra spark to the garden with their blooms.
Blue Daze
A member of the morning glory family, blue daze (Evolvulus glomeratus) is a low-growing sub shrub native to Brazil and Paraguay. Rarely reaching heights above 12 inches, blue daze is an ideal ground cover. The plant boasts oval green leaves and tubular blooms that are a rich blue color. Blue daze grows best in USDA zones 8 to 10, in full sunlight (with a little afternoon shade if possible). Blue daze should be grown in well-drained, sandy soil. It grows best when watered frequently during the growing season and without water during the winter.
Creeping Lilyturf
Creeping lilyturf (Liriope spicata) is a lush green perennial commonly grown as a ground cover. The summer blooming plant produces small clusters of lavender flowers that provide a striking contrast against the plant's bright green blades. Creeping lilyturf should be grown in USDA zones 4b to 10a. Adaptable to many soil types, creeping lilyturf will grow in neutral, alkaline or acidic soils, in either well-draining sands or heavier clays. It will stay lush and green if it's watered frequently.
Aaron's Beard
Aaron's Beard (Hypericum calycinum) is a low-growing, semi-evergreen plant that can easily be grown as a ground cover under the right conditions. The fast-growing plant is a native of southern Europe and will grow in USDA zones 5 to 9. Aaron's beard offers thick green foliage accented by cheery yellow flowers that appear in the summer and the fall. The plant thrives in a range of conditions, from full sun to full shade. Aaron's Beard prefers well-draining, sandy soil watered frequently.