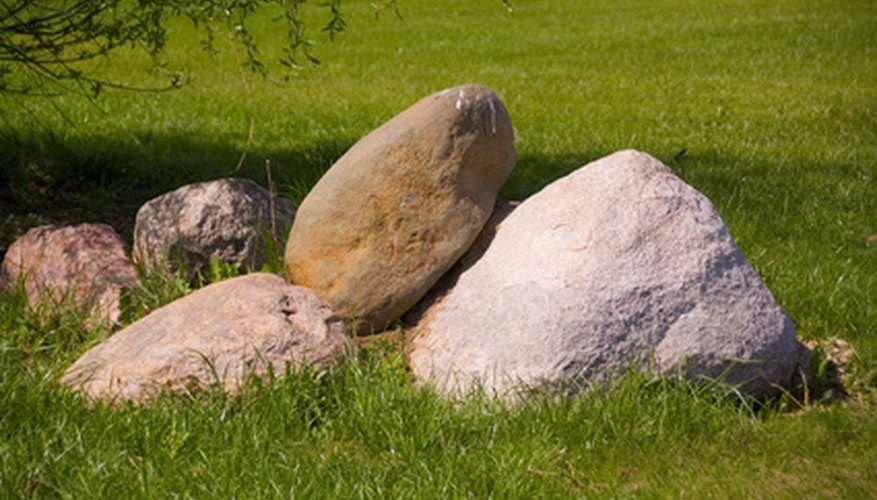 boulders on the grass in the Japanese garden image by Daria Miroshnikova from Fotolia.com
Hard landscaping, or hardscaping, is arguably the most difficult part of landscaping. Placing rocks, bricks, fences, fountains and other solid features can be expensive and time-consuming. You can afford to tinker with your garden and to make some mistakes, but tinkering with hardscaping is much more difficult. Plan out your hard landscaping in detail and get it right the first time to save yourself the hassle and cost of correcting mistakes.
Hardscape Features
Add a few hardscape features to give distinctiveness to your garden. Boulders, fountains, stone benches and other rock features are extremely durable and often look better with age. Old farm equipment and nautical artifacts such as ship's anchors, statues and lawn art will also add interest to your garden. For an inexpensive, do-it-yourself project, make a small labyrinth out of gravel or individual stones as an interactive garden feature.
Landscape for Your Garden
If you plan on maintaining a garden, put in the hardscape features that will make it easy for you to do so. Build a tool shed in a convenient location and set aside an area for compost. Arrange your garden in small beds with hardscape borders or leave space between rows of plants so that you can access everything easily. Use your natural landscape to arrange your garden beds most efficiently by putting plants that need more water downhill to take advantage of runoff. If your soil is poorly drained, build raised beds for your plants.
Hardscape Division
There are many excellent hardscaping techniques to divide up the space in your garden and landscape. Use different colors of gravel for stone mulch in different areas of your yard to create distinct garden patches. Make a simple picnic spot by spreading stone gravel inside of a stone border and putting in a picnic table. Outline a straight flagstone path with red bricks to break your front lawn into two halves. Install retaining walls to break up a hilly landscape into distinct, manageable parts that resist erosion. Erect small decorative fences around your garden path to give it structure.