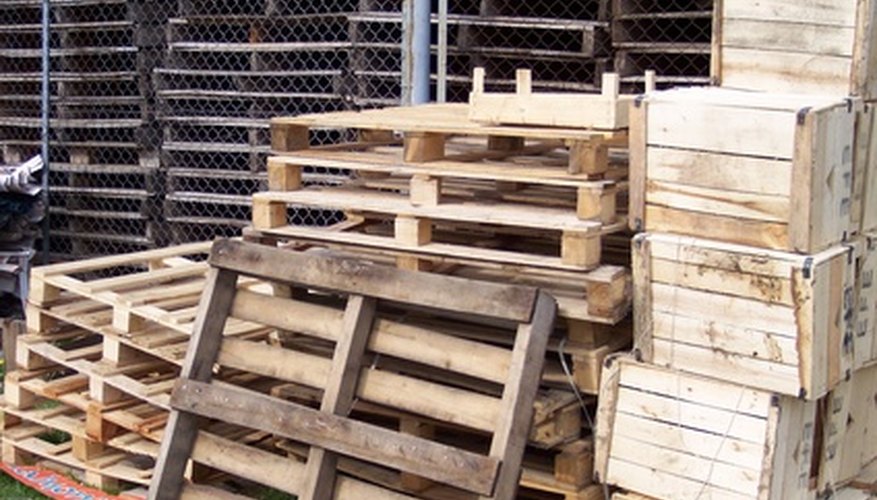 Many different types of composting containers exist. You can create rich, nutritious compost on the ground with no container; you can build a simple enclosure; or you can spend hundreds of dollars on a fancy manufactured container for your "black gold." If you want to create a tidy box in a corner of your yard that costs next to nothing and works as well as the expensive commercial composters, all you need are a few wooden shipping pallets or a few feet of wire mesh.
Wire System
Purchase at least 10 feet of 36-inch-wide hardware cloth or other narrow-gauge wire if you want to make a compost box with a diameter of 3 feet.
Place your heavy wire upright in the spot where you want to keep your compost.
Cut at least four 4-inch lengths of the sturdy wire with your wire cutters. Then loop one piece of wire through the standing cage at the top, bottom and at two spots in the middle, so all are evenly spaced from each other.
Drive three or four 4-foot wooden or metal posts into the ground with your hammer at evenly spaced intervals around the edge of your wire cage if you want to give your compost box good support.
Wooden Pallet System
Collect four wooden shipping pallets, often given away at various types of stores.
Prop your pallets upright into a square configuration in the area where you want your compost box to reside.
Cut about 12 lengths of your sturdy wire with wire cutters. Make sure they are long enough to loop through the slats on one pallet and through the slats of the one sitting next to it. Lash the pallets together with this wire, using one piece of wire at the top, one at the bottom and one in the center of each pallet.
After you fill your compost box with kitchen scraps layered with green and brown plant materials, water it well and then cover it with a sheet of sturdy black plastic (or a tarp).