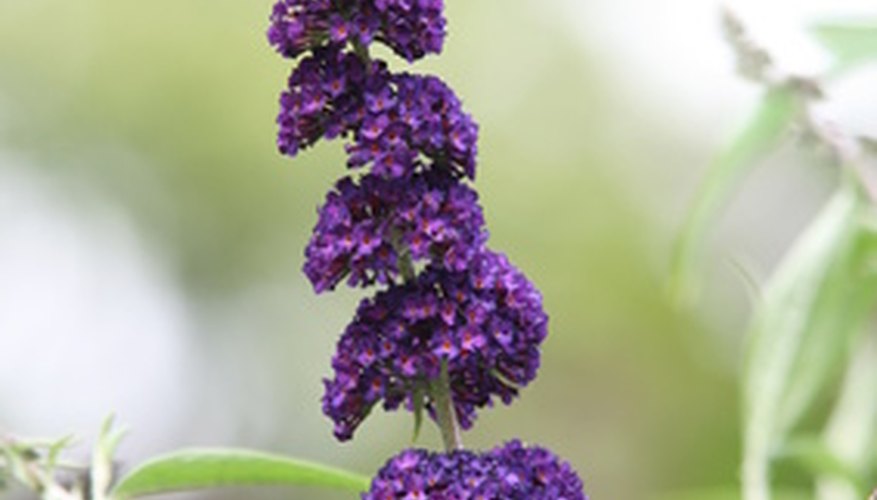 The butterfly bush (Buddleia) is a perennial shrub in USDA horticultural zone 8. It produces long panicles consisting of hundreds of tiny blooms that attract multitudes of butterflies. The blooms may be pink, white, purple, red or lavender depending on the variety of butterfly bush. In USDA horticultural zone 8, the shrub may be evergreen or hold its green leaves all winter, but the foliage declines dramatically during the latter part of the winter season. The butterfly bush produces blooms on the current season's growth or the wood produced that season.
Choose a day in early spring (late February to mid-March in zone 8) to prune back your butterfly bush. This is because the butterfly bush produces beneficial sugars and enzymes within the branching system that benefits the root structure over the winter. Butterfly bushes have a small root structure relative to their eventual size, so encouraging a healthy root system is important for butterfly bush growing success.
Prune back all the branches to within 12 inches to the ground using a sharp pruning tool. This is also a good time to add a 1-inch layer of mulch around the root base of the plant to conserve moisture and prevent weeds during the growing season. Remove all old limbs from the garden area in case they harbor any plant diseases.
After each bloom period, cut the old blooms or panicles off the plant. This is done by counting down two leaf nodes below the old flower. A leaf node is a swollen area on the stem where the leaves are produced. Cut a quarter-inch above the second leaf node. The reason the old blooms are removed, a process called deadheading, is so the plant will spend its energy producing more flowers rather than seed.
Things You Will Need
Butterfly bush

Garden pruners

Mulch