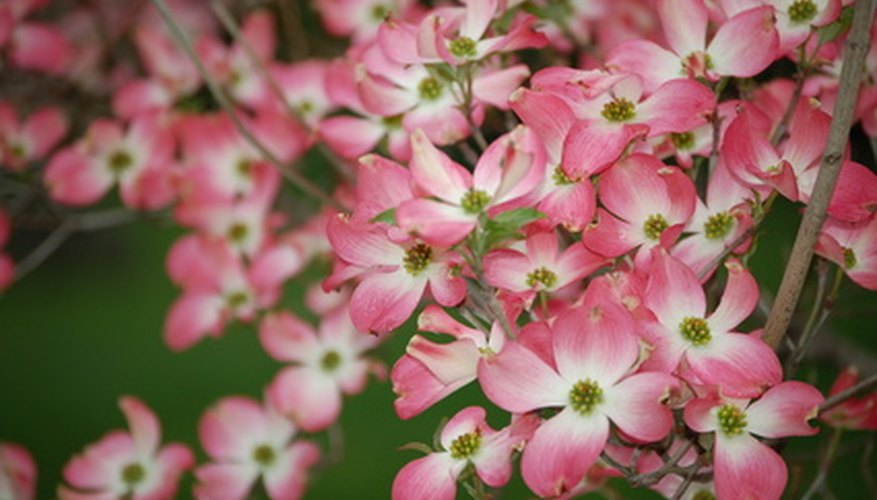 Blooming at about the same time as redbud trees in the eastern American woodlands, pink flowering dogwoods (Cornus florida forma rubra) produce pink to rose to rose-red bracts around their true tiny greenish-yellow flowers. The Missouri Botanical Garden mentions that pink-flowering varieties of this tree are slightly less cold hardy, particularly the flower and bract buds, so grow it best in USDA Hardiness Zones 5 through 9.
Cherokee Series
Touted as being more vigorous and disease-resistant than other flowering dogwoods, varieties in the Cherokee Series include a couple of pink-flowering selections. 'Cherokee Brave' forms white bracts that are mottled and streaked with deep rose coloration, and 'Cherokee Chief' develops bracts that are dark rose-red, arguably not pink but looking more blood red at times. 'Cherokee Sunset' bracts are deep rose pink with a hint of violet, lighter than those of 'Cherokee Chief.'
American Beauty
Pleasant rosy-red bracts occur on 'American Beauty,' and newly emerging leaves have a reddish tint to them. It may sometimes be labeled or called 'American Beauty Red' or 'Red Beauty.'
Spring Song
Some people describe the bracts of 'Spring Song' to be deep rosy pink, while others may say it's rose-red. These colors blush atop white bracts, so the overall effect is light pink.
Gulf Coast Pink
One of the best pink-flowering varieties for long, hot summer regions, 'Gulf Coast Pink' bears pink bracts and ranks among the best choices if you live in Florida north of Orlando and desire a pink flowering dogwood tree.
Cornus Kousa 'Satomi'
While not a species of flowering dogwood, the kousa dogwood variety 'Satomi' produces rosy pink bracts in late spring to early summer. This species, Cornus kousa, tolerates sunny locations better than other types and is not affected by anthracnose as flowering dogwoods are.