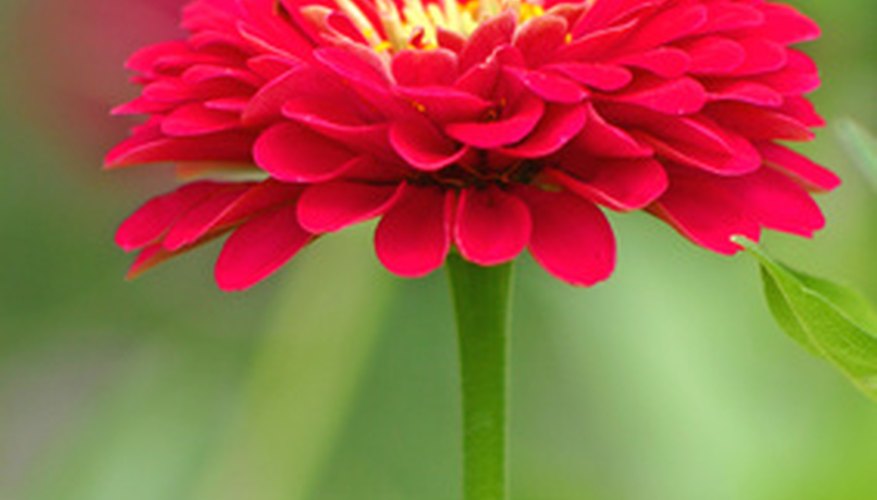 Early Spanish settlers called zinnias "mal de ojos," meaning "evil eyes." Little did they know that these wildflowers would become a popular flower adorning garden beds across the U.S. More than 100 cultivars of zinnia exist today, ranging in color and size. From eight-inch dwarfs to four-foot plants there is a cultivar appropriate for any garden. Bloom size ranges from 1/4 inch to 5 inches in nearly every color except blue, brown and black. Gathering seeds in fall provides an abundance of seeds for direct seeding in spring.
Select healthy, robust plants free of any signs of disease or insect infestation for seeds. Seeds carry the traits of the parent plant. Choose plants that exhibit the traits you wish to preserve. Consider bloom size, color and shape, as well as blooming time.
Allow the biggest and healthiest blooms to mature on the plant.
Cover the seed head with a fine-mesh bag as soon as flower petals shrivel and die. Use an elastic band to hold the bag in place.This prevents seeds from spilling onto the soil before harvest.
Clip the flower head from the main stem once seeds are dry and dark.
Separate plant debris from the seeds by removing the mesh bag and placing the flower head in a paper bag and shaking to loosen seeds. Seeds settle to the bottom of the bag. Remove plant debris by hand.
Place seeds in an envelope and mark the type of seed and the date. Seal to prevent seeds from spilling.
Seal the envelopes in an airtight container and store in a cool, dark place until spring.
Things You Will Need
Clippers

Fine-mesh bag

Elastics

Envelope

Marker/pen

Airtight container
Warning
Hybrid seeds will not produce plants identical to the parent plant.
Resources