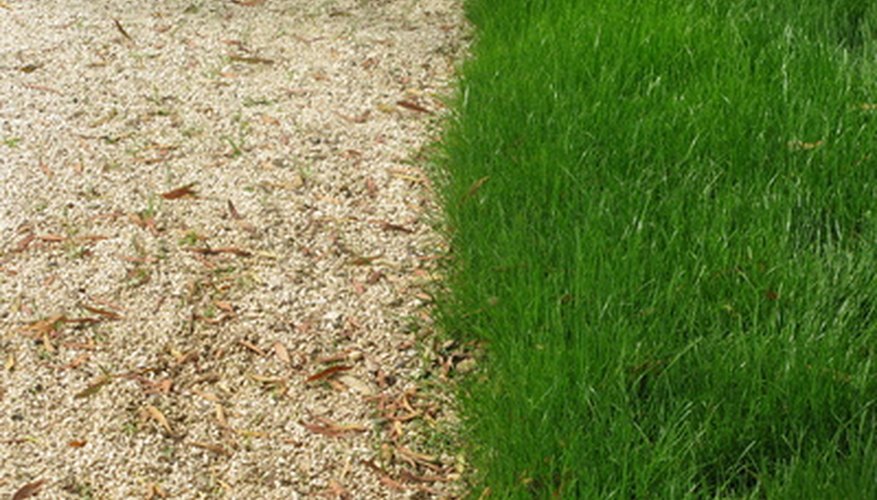 Turf grass is a dense, resilient grass often used in sporting and recreational lawns. The establishment of turf grass prevents erosion, and in urban centers reduces heat, noise, dust and glare, says University of Texas A&M. To establish turf grass, the site requires preparation, proper selection of turf grass, proper planting technique and maintenance.
Remove all debris from the lawn, such as tree stumps, rocks and undesirable grasses or weeds, suggests the University of Texas A&M. Kill grass and weeds using a non-selective, post-emergence herbicide, following the instructions on the label. Allow the herbicide enough time to wear off before planting your turf grass.
Measure your lawn in square feet to determine how much grass seed is necessary. Take the length and multiply that number by the width of the lawn to get square feet. Seeding rate is anywhere between 1 to 9 lbs. of grass per 1,000 square feet, depending on the grass variety.
Select a grass seed best for your specific climate area and growing needs. Check the label of the grass seed for seeding rate, seed quality, percentage of desirable seed and the germination percentage.
Till the soil to a depth of 4 to 6 inches for best root development, says Purdue University. Add 40 lbs. of 10-5-5 or 10-6-4 per 1,000 square feet when tilling.
Fill the spreader with grass seed and apply half of the seed going along the length of the lawn, and the other half along the width of the lawn for best coverage, says Purdue University. Overlap the seed using the wheel marks from the previous pass as a guide.
Add 80 lbs. of dry straw per 1,000 square feet to cover the grass seed and protect it from the elements, suggests the West Virginia University Extension. Wet the soil at this time to a depth of 4 to 6 inches. Maintain this moisture level for two to three weeks while seeds germinate.