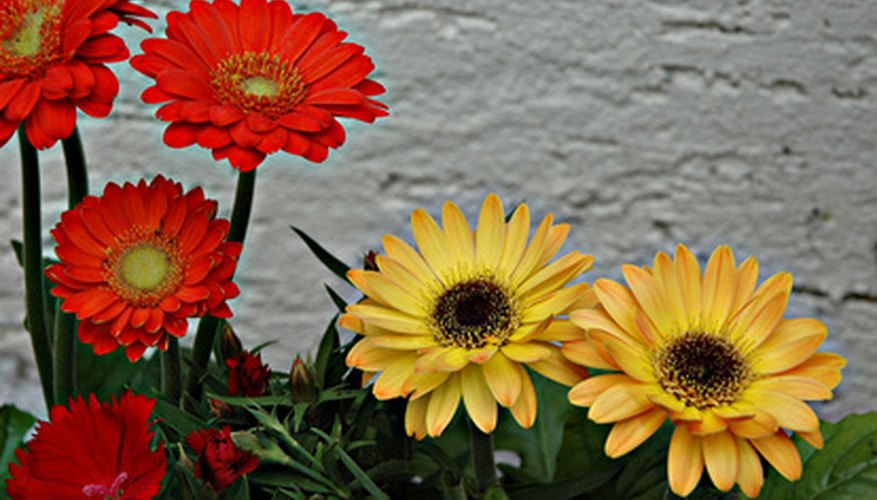 Gerbera daisies (Gerbera jamesonii) are highly desirable for their large, colorful blooms and wide range of shapes and sizes. They are also long-lasting cut flowers and versatile, hardy bedding plants. The brightly colored flowers come in shades of red, pink, cream, orange and yellow. There are three primary types of Gerbera daisies, according to Purdue University. Gerbera daisies grow best in USDA zones 9 to 11; plant in an area of full sun and well-drained soil.
Singles
Single gerbera daisies feature flowers that have a single layer of petals. This type is the largest group of Gerbera cultivars grown in home gardens, according to the Alabama Cooperative Extension. Singles have one row of long, think petals surrounding a small ring of much smaller, disk-shaped flowers. While these disk-shaped flowers also have petals, they are so small as to be insignificant.
Doubles
Doubles are another type of gerbera daisy. Double-petaled flowers include doubles, crested and full-crested. They have one or two rows of the long, slender petals, many other rows of medium-length petals (or "ray flowers"), and the small, compact group of disk flowers in the center. Full-crested types have enough of the second row of medium petals so as to appear quite full, and these petals often cover the smaller, tight group of inner flowers. In these cases, the daisy head appears round.
Quilled
Quilled gerbera daisies are similar to the double-crested type, save the fact that the petals are shaped like spikes. In fact, the appearance resembles that of porcupine quills, hence the name. In quilled gerberas, the rows of spiky petals overlap and stick straight out, giving the flower a very distinctive and striking look. These are also sometimes called "spider" daisies.