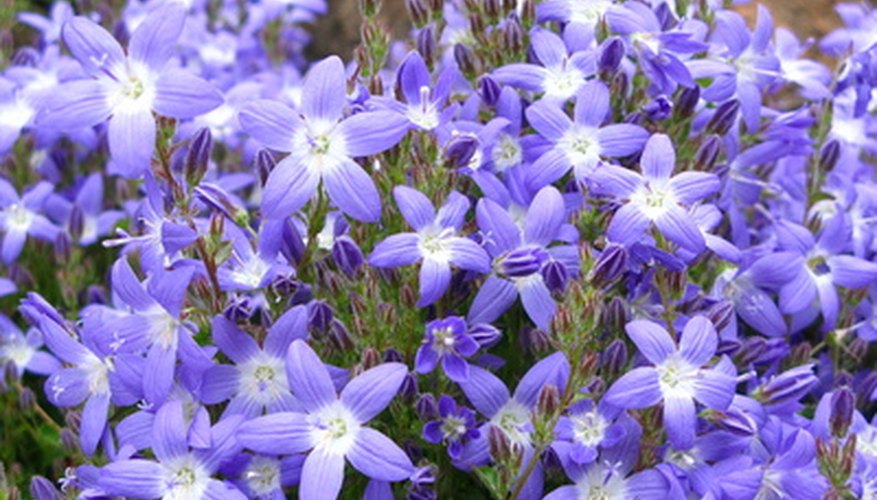 Also known as Periwinkle or Myrtle, Vinca is an effective ground cover that impatiens, though both the bloom and foliage are brighter in color. Blooms are available in blue, purple and white.
There are two varieties of vinca-major and minor. Vinca major is larger and more aggressive, and can grow to 2 feet, while Vinca minor is a dwarf version that reaches only about 6 inches in height. Both varieties are perennials most often used as annuals and thrive in partial to full shade with moderate water.
A second plant goes by the name of vinca, but the Catharanthus is technically Vinca rosea, which thrives in hot sun and is nearly drought tolerant. This plant is available in a wider range of colors.
Blue
Vinca major produces lavender-blue, pinwheel-shaped flowers that appear in spring. The flowers may be up to 2 inches across.
Several cultivars of Vinca minor produce blue flowers. "Aureola" has a light-blue bloom, "Bowles Variety" has a deep-blue bloom and "Ralph Shugert" has medium-blue flowers and blooms for a second time in fall.
Purple
The "Atropurpurea" cultivar of Vinca minor produces a dark purple bloom; the "Cora Cascade Lilac," is a vine-like cultivar that produces lilac-colored blooms. There are more purples available if you are looking at Catharanthus, including "Mediterranean," which is a low, spreading cultivar with lavender blooms, and "Passion," which is deep purple with a yellow center.
White
There are at least two Vinca minor cultivars that produce white blooms: "Alba" and "Miss Jekyll." Alba produces a bright white flower, while Miss Jekyll leans a little less bright and the plant is among the smallest of the cultivars.
Other Colors
If you're looking for bright pinks and reds, select Catharanthus, which requires less care than its Vinca cousins. Catharanthus, also known as Madagascar Periwinkle is available in a range of reds, pinks, oranges and bicolor blooms. The "Jaio Scarlet Eye" cultivar produces a scarlet bloom, while "Boa Peach" produces an apricot-peach bloom and "Cobra Apricot" produces a bicolored flower with apricot petals and a pink center.