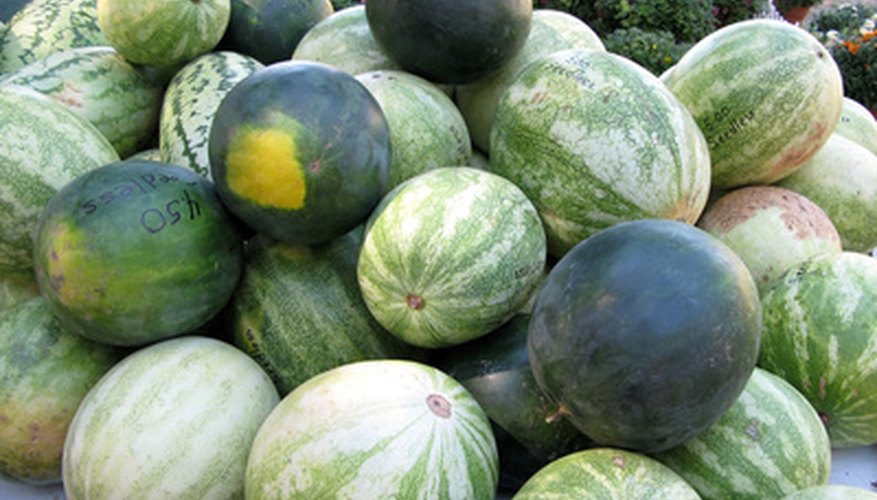 Watermelons require strong support when you grow them vertically. If you start with a sturdy trellis and make a few nifty hammocks for your melons, you may never go back to horizontal beds again. Melons grown off the ground take up less space and stay cleaner than their sprawling counterparts. They are also less prone to rot and fungal growths, and suffer less accidental breakage and animal damage.
Hammer steel "T" posts into the ground at 4- to 6-foot intervals. Pound them in until the flanged portion of the post is completely beneath the soil surface. Alternatively, set posts in buckets of concrete, mixed according to label directions, and sink the buckets in the ground to avoid toppling the trellis.
String stainless steel wires from one post to the other. Wrap each end around the post and twist it tightly with pliers. Start the first wire about 12 inches off the ground and run more wires at 6- to 12-inch intervals to the top of the posts.
Plant two or three watermelon seeds ½ inch deep in a mound centered between each of the two posts.
Train the watermelon vines onto the wires as as soon as they begin to grow and send out twining shoots.
Make "slings" for support as soon as the tiny watermelons begin to form. Cut or tear strips from old T-shirts or other stretch fabric--6 to 8 inches wide for small melons, and 12 to 15 inches wide for big melons. Make each strip long enough so you can easily tie it to the trellis.
Place a sling under each melon, hammock style, and tie the ends of the sling to the trellis when the baby melons reach orange to grapefruit size.
Monitor the growth of each melon and replace any slings with larger versions if the melons outgrow the one they are in.