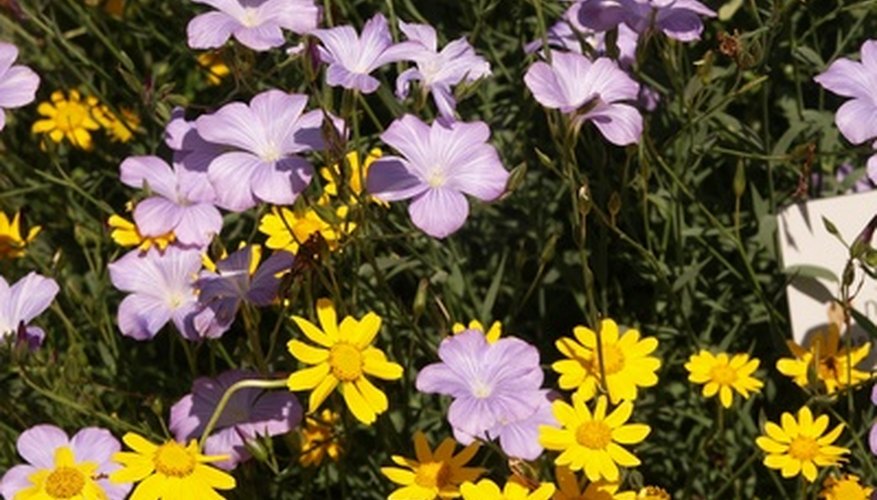 One of the most rewarding experiences you can have, in the garden, is planting your own flower seeds. It doesn't matter if you are a beginner or an experienced gardener, it still feels like magic when the tiny seeds you've planted in soil, reward you with bright, colorful annuals during the spring and summer months. When you start with the basics, sunshine, water and nutritious soil, your flower seeds will surely grow and bloom.
Choose the flower seeds according to colors and plant heights needed in your garden. The back of the seed packet will tell you the expectations for each type of flower. You'll want shorter flower plants in the front and taller ones in the back of your flower bed.
Dig up the soil in the area you plan to plant the flower seeds. Dig down about 12 inches, while turning the soil over. Remove any debris, such as weeds, stones or litter. Break up any dirt clods, until the soil is a fine texture.
Pour about 2 inches of compost over the top of the worked soil. Work it in with the shovel. This will offer your new seeds plenty of nutrition, according to Planet Natural. It will also help amend your soil, if it has too much sand or too much clay. Rake the area nice and level.
Follow the manufacturer's instructions for seed planting depth and spacing. Poke a hole in the soil, at the depth recommended. Drop a seed in and cover it with soil. Shasta daisies, for instance, should be planted 1/4 inch deep, for example. Space the next seed, as advised by the packet instructions.
Sprinkle, the area with your hose spray attachment, lightly. You don't want to spray water so hard that you disturb the newly planted seeds. Check the soil often. It must be kept moist for the flower seeds to germinate (sprout). After germination, water daily unless there is rain.