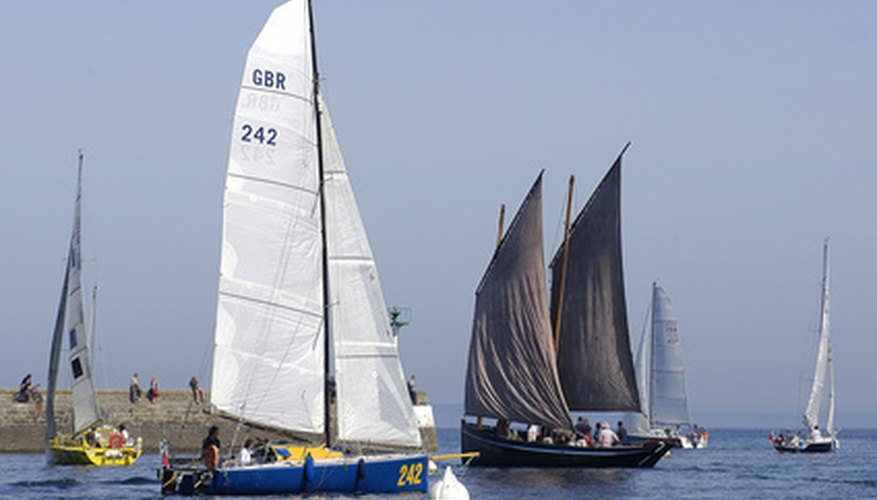 Whether you are a seasoned sea dog or a landlubber who dreams of the ocean now and again, nautical landscaping can bring a sense of maritime charm to your yard. Maritime artifacts blend in seamlessly with other rustic garden design ideas and look great among mossy stone walls, and rough wooden fences.
Ship's Chain Fence
Give your property a nautical barricade with a maritime ship's chain fence. Install a series of metal poles in your yard, sinking each 3 feet into the dirt. Connect the chain to the poles so that it hands in a graceful ark between them. Attach a ship's anchor to the end of the chain and leave it sitting beside past the last pole for an extra decorative touch.
Shell Decor
Use symmetrical shells like clamshells to line your garden path or edge your flowerbed. Use giant conch shells and other impressive species as feature items in your garden. Create sculptures or mobiles out of driftwood decorated with shells found beach hunting for your yard. If you have a limited budget, use reproductions such as the reproduction giant clamshell planter linked to below to give your landscape the appeal of large, exotic shells without the cost.
Wrecked Skiff Landscaping
A broken down skiff or other small, wooden boat is useful for a number of nautical landscaping plans. Drill small holes in the bottom for drainage and fill the hull with fertile potting soil to get an unusual raised flowerbed. If you prefer, cut it into strips and use the curved timbers to edge flowerbeds, garden paths and other areas of your landscape.
Nautical Artifacts
A number of nautical artifacts make great feature items as is. Find capstans, ship's wheels, buoys, and fishing floats and display them in your garden to add a nautical feel. If you have a fishing net, suspend it from a fence, garden wall or other structure and use it as a lattice to hang your other nautical artifacts from.