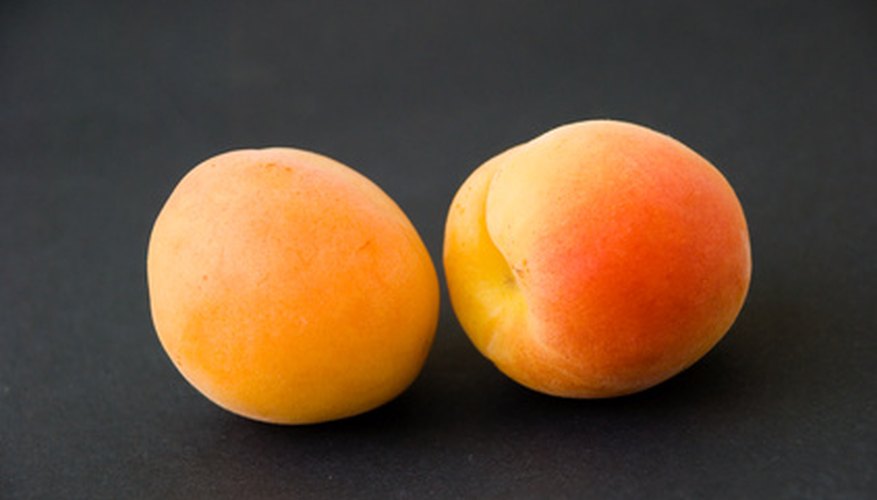 Fertilization of apricot trees differs, depending on the age of the tree and the time of the year that the fertilizer is applied. Fertilizers applied during the summer generally are high-nitrogen fertilizers that encourage green leafy growth. Winter and spring fertilizers are more balanced to encourage flowering and fruiting.
Young Trees
Unlike with other fruit trees, you can start fertilizing your apricot trees the first year they are planted. Begin fertilizing after they leaf out in the spring. When you fertilize in the first, and all subsequent years, place the fertilizer in a ring around the trunk, but do not allow the fertilizer to touch the trunk.
Winter Fertilizers
Fertilizers for apricot trees are balanced fertilizers, like 10-10-10 fertilizers. When the fertilizer should be applied depends on the age of the tree. In the tree's first year, you should not fertilize until the tree leafs out in the spring. The second year, however, add two cups of balanced fertilizer around the tree in March. In subsequent years, add two cups of balanced fertilizer per inch of trunk diameter in February.
Spring Fertilizers
The type of fertilizer appropriate for spring fertilization will depend on the age of the tree. Trees that are a year old should have a cup of balanced fertilizer in April. Two-year-old trees need two cups of a high-nitrogen fertilizer, like 21-0-0, again in April. However, give your apricot between two and six cups of high-nitrogen fertilizer in May. If your tree has vigorous shoot growth, add to the lower end of that recommendation. If your tree does not have many shoots, add closer to six cups.
Summer Fertilizers
Apricot trees require high-nitrogen fertilizers in the summer to help encourage leaf and shoot growth. The timing and amount, however, will vary depending on the age of the tree. For one-year-old trees, give the tree a cup of high-nitrogen fertilizer each month in May, June and July. Two-year-old trees need the same type of fertilizer at the same times, but will need two cups. Established trees, however, may or may not need summer fertilization. If the tree shows vigorous growth, it will not need fertilization. If the leaves look healthy in August but there is no new growth, give the tree 1-1/2 cups of 21-0-0 fertilizer. If there is no new growth by August and the leaves look yellow, give the tree three cups in August.
Soils With High pH
If the soil around the tree tests at above pH 7.5, do not apply phosphorous fertilizer in the spring. If your soils test at this level, you may need to mix your own fertilizer from components to help keep the soil and your tree healthy.