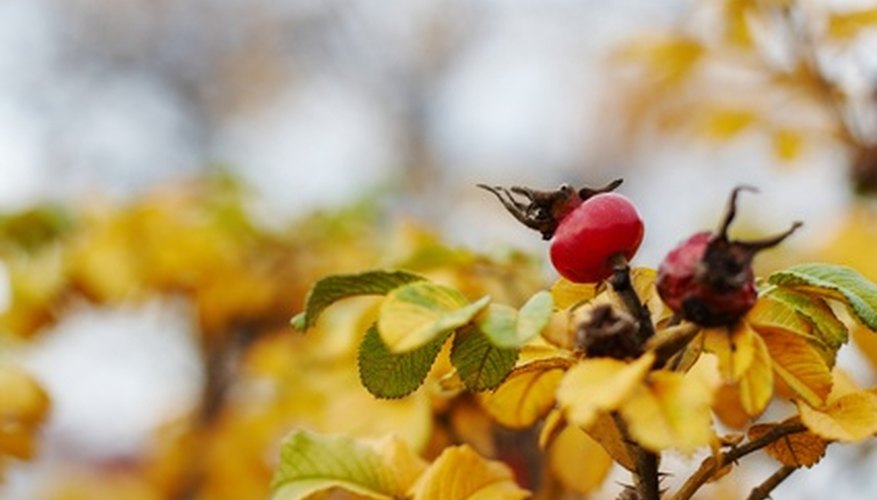 The fruit produced by the wild rose, rose hips contain high amounts of vitamin C. Edible and containing antioxidants, rose hips are useful in a variety of applications including hair care, skin care and spa products, as well as delicious desserts, jams and syrups. Distilling the oils from fresh rose hips offers you the ability to take advantage of the essential oils for scent, flavor and the therapeutic benefits of the fruit.
Add 4 cups fresh, ripe rose hips and a gallon of distilled water to the 6-qt. stockpot.
Set the stove to a medium simmer.
Insert the mesh steaming basket into the pot, allowing it to rest just over the waterline.
Place a glass bowl in the center of the mesh basket.
Place the lid of the stockpot, upside down, onto the pot. Make sure the knob of pot handle is pointing directly over the glass bowl.
Keep the top of the lid filled with ice. The ice causes condensation inside of the pot, collecting the oils as they drip into the glass bowl.
Allow the stockpot full of rose hips to simmer until all of the water has evaporated from the pot. This takes about two hours. Turn off the stove.
Collect the dish of concentrated rose hip oil once it has cooled in the pot.
Suck the oils up with the plastic pipette and inject the oils into a glass oil vial or bottle. Secure the lid.
Things You Will Need
4 cups fresh rose hips

6-qt. stockpot

Mesh steaming basket insert

Glass bowl

Plastic pipette

Glass oil jar

Ice

Distilled water
References