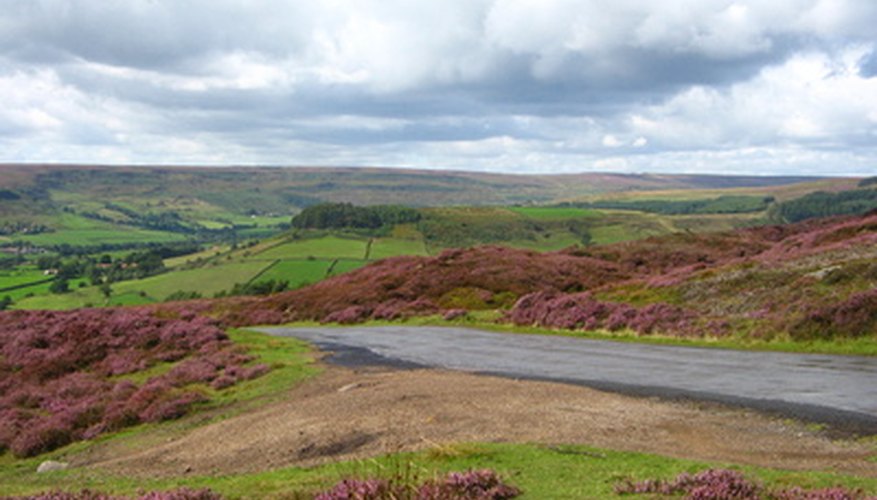 Many gardeners find it simpler to match plants to their existing soil than to amend their soil to satisfy plants. Soil pH may be acidic with a pH of less than 7.0, alkaline with a pH above 7.0, or neutral with a pH of 7.0. A simple test will determine what you have. A wide range of striking ornamental shrubs, trees, and ground covers are available for acidic soil, according to the Purdue University's Michael N. Dana, Ph.D., and Consumer Horticulture Extension Specialist B. Rosie Lerner.
Scotch Heather
Scotch heather (Calluna vulgaris) is an evergreen ground cover hardy to winters temperature of minus 30 degrees F. It stands 1 to 2 feet high with an up to 2-foot spread. Hundreds of Scotch heather cultivars, some only 4 inches high, are also available, according to the Missouri Botanical garden (MBG). Spring and summer foliage is gray to green, with purple and bronze autumn tones Between July and September, plants have spikes of tiny, rose-pink to purple blooms.
Cultivars work as rock garden plants, ground covers, or in border and background plantings. For best performance, give them full sun with filtered afternoon shade in areas with hot summers. Plant in acidic, well-drained sandy or gravelly soil away from strong winds. Provide peat moss mulch and consistent moisture. Spring pruning will keep the plants tidy.
Furin-tsutsuji
Furin-tsutsuji (Enkianthus campanulatu) is a deciduous shrub native to Japan. Hardy to minus 30 degrees F, it grows up to 10 feet high and 6 wide. During May and June, furin-tsutsuji has drooping clusters of pink-striped, yellow-to-pink flowers. Toothed, elliptical green leaves may become red tinged with purple, yellow and orange in fall. Purchasing this shrub in autumn when its leaves have changed will guarantee fall color, advises the MBG.
Plants make an attractive spring displays with acid-loving rhododendrons. They also work as specimen, border or foundation plantings. They prefer partial shade and moist, organically rich well-drained soil. Prune as needed as soon as bloom ends.
Sweetbay Magnolia
Sweetbay magnolia (Magnolia virginiana) is a small, multitrunked ornamental tree native to swamps and woods from Massachusetts south to Mississippi and west to Texas. Seldom growing more than 20 feet high, it has light gray bark and spicily scented twigs and foliage. Dark green, 3-to-6-inch leaves on Southern trees may be evergreen. Trees in the North have purplish-bronze deciduous leaves.
From April to July, sweetbay magnolia's twigs have single 2 to 3 inch white blooms. Open only in the daytime for up to three days, the fragrant, densely petaled flowers give way to conical red seedpods with visible seeds. Plant this tree, advises the Lady Bird Johnson Wildflower Center, in partial shade and moist, acidic fertile soil. It tolerates sand, loam and clay. Prune after bloom during its active growing season.