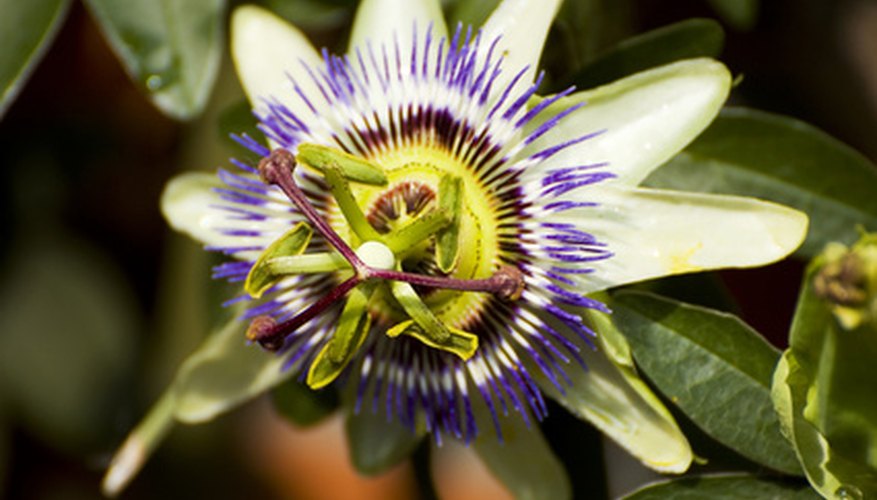 Passion flowers (Passiflora incarnata) require partial-shade to full-sun in well-drained soil. Hanging baskets provide ideal growing conditions for the perennial indoors. The vine droops over basket containers to reach an average height of 6 feet and spread of 3 feet. Moving the basket outdoors for several hours of daily sunlight provides the opportunity to attract butterflies. Novices and experienced gardeners have success growing passion flowers indoors.
Mix 1 part peat and 1 part potting soil in a small bucket. Fill potting containers three-quarters with mixture. Place a small hole in the center of mixture. Place two seeds per container. Water until soil is moist.
Mist seeds daily with water to germinate. Once sprouts appear, remove the weaker sprout from the container.
Place indoor passion flower containers in a partial to full-sun window location for optimum light requirements.
Combine 1/2 part peat into current indoor passion flower containers or when setting up new transplants to improve soil drainage.
Place a small, oscillating fan several feet away from indoor passion flower containers to improve air circulation and decrease chances of fungus growth.
Water the indoor passion flower containers when the upper 2 inches layer of the soil feels dry to the touch.
Spray a pair of pruning shears with disinfectant to sterilize. Prune away any brown, damaged or diseased sections of the vine throughout the spring and summer.
Thin the lower quarter branches of indoor passion flower containers starting at the base of the plant at the beginning of fall. Remove a quarter of the branches with sterilized pruning shears.
Cut blooms 2 inches past the base of the flower blossom for fresh flowers or when blooms fade, throughout the growing season. Use sterilized pruning shears.