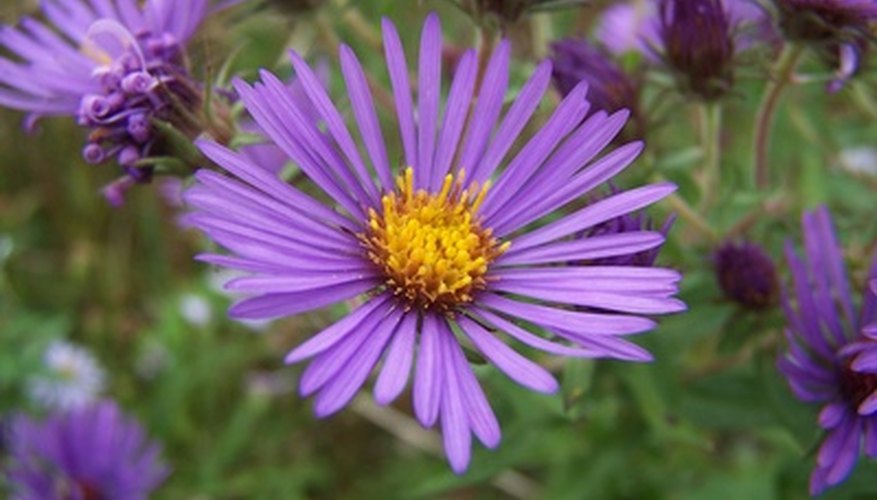 Potted plants filled with bright blooms and foliage bring color to the garden and surrounding landscape. Oftentimes, their foliage appears in billowing mounds and cascading, pendulous shapes that beg to be nestled within a flowerpot. Grown in a wide range of colors, shapes and sizes, they require well-drained soil to thrive and often need an occasional deadheading, or removing the spent blooms, to ensure a long flowering season.
Surfinia Petunia
Surfinia petunia (Petunia integrifolia) is an annual flower with draping foliage and showy blooms, an ideal plant to grow within a pot. Growing 1 to 3 feet tall, Surfinia flowerheads range from deep purple to lavender and grow 1 ½ inches wide. Beginning in May, the masses of blooms emerge to last to the first frost, making for a long-lasting flower variety. Surfinia petunias have bright green, sticky foliage that contrasts with the vibrant blooms. They grow best in full sun and well-drained, loamy soil. Surfinia petunias do not require deadheading. Surfinia petunias are hardy in all U.S. Department of Agriculture (USDA) hardiness zones.
October Skies Aster
October skies aster (Aster oblongifolius 'October Skies') is a perennial flower with a spreading growth habit and mounding, low-growing form. Growing 1 to 3 feet tall and wide, October skies asters are ideal fall flowers to plant within pots for a showy garden display. The blooms are 1 to 2 inches wide with yellow centers. The foliage on October skies aster is made up of hairy and sticky bracts. Beginning in fall, the dark blue flowers on October skies cover the plant with a prolific number of blooms. Deer- and frost-tolerant, October skies asters are hardy plants that attract butterflies to the garden. They grow best in full sun to part shade and well-drained soil. Plant in USDA zones 4 to 8.
Verbena
Verbena (Verbena x hybrida) is an annual flower with a vigorous growth rate. Growing 6 to 12 inches tall and 12 to 18 inches wide, the clusters of blooms grow in a wide range of bright colors including, blue, purple, red, white and pink. Each flower cluster has a contrasting "eye" that creates depth on each bloom. Beginning in late spring and lasting into fall, verbena covers the plant and looks stunning in a flower pot. The foliage on verbena is deep green and dissected. Drought-tolerant, verbena withstands arid climates where moisture is limited. Deadhead spent blooms on verbena to ensure a long flowering season. They require full sun to part shade and well-drained soils to thrive. Hardy in all USDA zones.