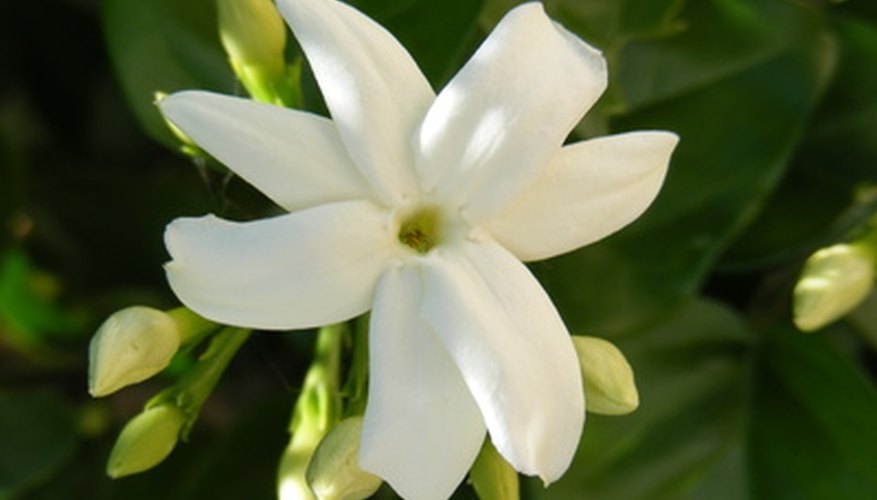 Climbing plants can be trained to cascade over walls, fences or statues, or to climb up and over trellises and entrances. Climbing plants and flowers are a valuable landscaping tool that add a little extra color, liveliness and texture to a garden.
Climbing Hydrangea
Climbing hydrangea (Hydrangea petiolaris) is a versatile plant that is used both as a climbing vine and as a ground cover. The plant has rich green foliage and clusters of white flowers, which bloom in the early spring until late summer. Climbing hydrangea grows in a wide range of soils, and is adaptable to acidic, neutral or alkaline pH levels. The plant prefers soil that is kept consistently moist, and the vine will grow in partial sun or even full shade.
Confederate Jasmine
A native of China, Confederate jasmine (Trachelospermum jasminoides), also called star jasmine, is a vine frequently cultivated throughout the world because of its highly fragrant waxy white blooms and for its ability to quickly and attractively climb trees and structures. Confederate jasmine is an evergreen that boasts glossy, oval green leaves. Easy to grow and low-maintenance, the plant requires well-drained soil and full sun or part shade. The drought tolerant plant does well in hot regions of the American South.
Cherokee Rose
Delicately fragrant and evergreen, Cherokee rose (Rosa laevigata) is a climbing rose species that boasts floppy white flowers and rich green foliage. The fast-growing plant, a native of China, is the state flower of Georgia. Cherokee rose is low maintenance and grows well in full sunlight. The plant should be grown in fertile, wel-drained soils for best results. Though drought tolerant, regular watering will produce the healthiest flowers. Tend to the plant with caution, as Cherokee Rose is a thorny vine, and even the fruits of the flower are covered in sharp spines.
Trumpet-Flower
Trumpet-flower (Bignonia capreolataz), also called cross vine, is a flowering vine native to North America. The evergreen perennial is ideal for trellises, will attract hummingbirds to your yard. The plant has oblong, gray green leaves and trumpet-shaped reddish-orange blooms. Trumpet-flower is highly resilient and will thrive in many types of soil, though the plant does require at least filtered sunlight. Trumpet-flower is drought tolerant and requires little care. The fast-growing plant is generally pest-free.