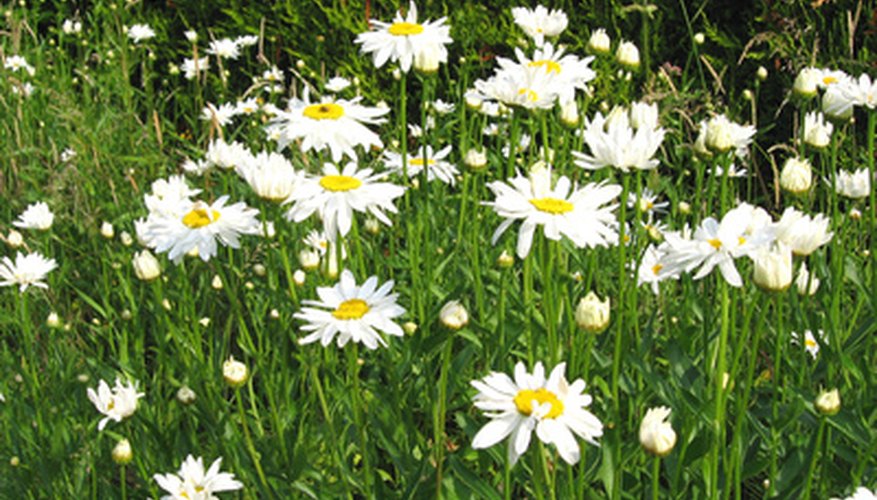 Shasta daisies are perennials that grow to a height of 2 to 3 feet. This white flower with a yellow center is loved for its simplicity. It seems to blend well with any landscaping style or other plant colors. These daisies can be added to almost any floral arrangement as a cut flower. Choose a location with plenty of sunshine for planting, although these beauties will grow in partial shade as well. Plant them from seed and watch them reappear every year.
Plant the Shasta daisy seeds after the last hard frost of the season has passed in your location. It's OK of light frosts are still in the forecast.
Dig up the soil where the Shasta daisies will be planted. Use your shovel to dig down about 1 foot. Turn the soil and break up any clods of dirt. Rake the soil evenly.
Pour about 2 inches of compost over the soil. Work the compost in with the shovel. Rake the area level again. The compost will provide nutrients and create a soil that allows water to drain well.
Plant the seeds in holes that are 1/8 inch deep. Use your finger to make the holes, drop the seed in and then cover with soil. Space the seeds about 1 foot apart. If the soil is dry, give the area a light sprinkle. Continue watering in this manner whenever the top of the soil starts to dry. Germination should appear in 10 to 20 days.
Use an all-purpose fertilizer in spring, after the seedlings have reach approximately 3 to 5 inches high. This will improve plant growth. Fertilize again, when flower buds are visible but have not yet bloomed, with a high phosphorus fertilizer. This will promote large, healthy flowers.
Things You Will Need
Shasta daisy seeds

Shovel

Rake

Compost

Fertilizer
Tip
If you know your soil to be acidic, work a small amount of lime in along with the compost to amend it to a more alkaline state.