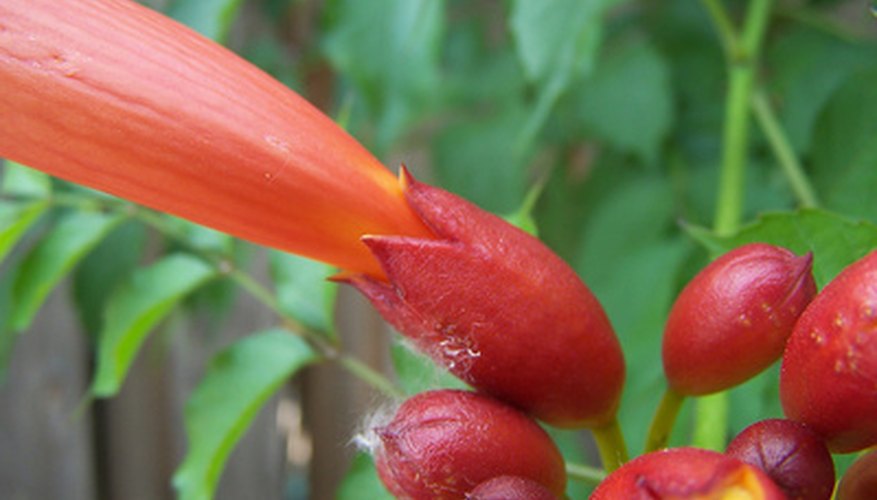 Use flowers that bloom all summer as the basic plants in your garden. Supplement with flowers of different colors that bloom at different times to create an ever-changing color palette. Most of Louisiana in USDA Zone 8, with just a small portion near the coast in Zone 9, allowing gardeners all over the state to choose from many of the same flowers.
Trumpet Creeper
Trumpet creeper (Campsis radicans) is also known as trumpet vine, common trumpet creeper and cow vine. The plant grows up to 35 feet long with egg-shaped, compound leaves made of 4 to 6 pairs of leaflets growing on a stem up to 12 inches long. Trumpet shaped red, orange or yellow flowers grow up to 3 1/2 inches long in clusters at the ends of the branches. The flowers bloom in June, July, August and September and are followed by fruit pods up to 6 inches long. The flowers are a favorite food source for hummingbirds and butterflies, but the plant is moderately deer resistant. Plant trumpet creeper in full sun and a soil that is moist to dry.
Evening Star Rain Lily
Evening star rain lily (Cooperia drummondii Herbert) is also known as evening rain lily and blooms from May through September with single white flowers growing at the tip of a 12-inch long, leafless stem. The flowers appear right after a rain storm, open only in the evening and stay around for two to four days. Plant evening star rain lily in full sun or partial shade and a soil that is moist to dry.
Rose Vervain
Rose vervain (Glandularia canadensis) is also known as sweet William and rose mock vervain. The plant is a spreading ground cover that grows from 5 to 10 inches high. Fragrant, rose-pink, tube-shaped flowers grow in clusters at the tips of the branches, blooming from February through September. Rose vervain is a top choice for rock gardens. Plant rose vervain in partial shade and a moist soil. Butterflies, rabbits and deer all find the plant attractive.
Halberdleaf Rosemallow
Halberdleaf rosemallow (Hibiscus laevis All.) Is also known as halberdleaf hibiscus and scarlet rose mallow. The plant, a favorite of butterflies, blooms from May through November, reaching a height of 6 feet. Green leaves grow the entire height of the stems, with white or pink flowers blooming from the leaf axils first at the bottom of the stems and progressing upwards until they reach the top. The cup-shaped flowers grow up to 3 inches long and bloom only in the daytime. Halberdleaf rosemallow grows naturally in marshy areas and likes a moist soil in either full sun or partial shade. Use the plant near a water garden or pond.