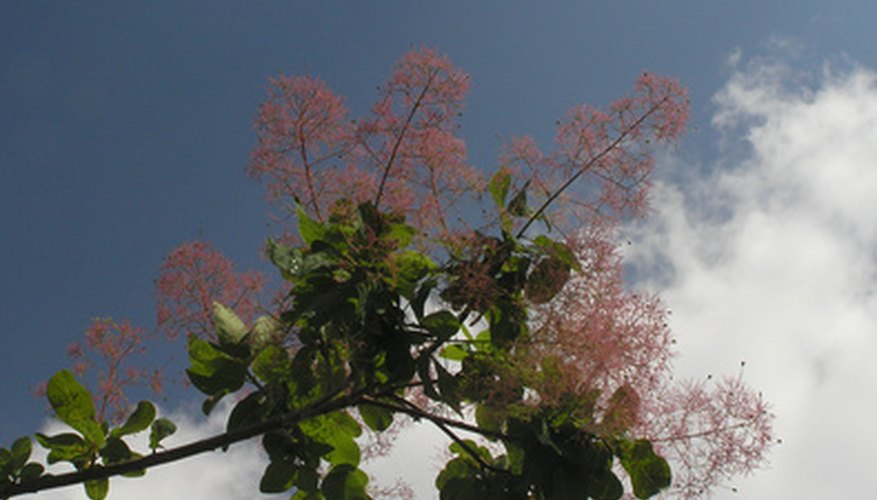 The smoke tree (Cotinus coggygria) grows in rocky acidic soil with a PH range of 3.7 to 6.8 in USDA horticultural zones 4 through 9. It grows best in dryer conditions than most garden plants. Moist soil tends to shorten the lifespan of the smoke tree, because it is prone to damage from fungal diseases such as Verticillium Wilt. The smoke tree grows to 15 feet tall and 15 feet wide. Its most attractive feature is the production of large panicles of tiny brown or purple flowers in the spring that look like smoke when viewed from a distance. Although technically a multi-trunked shrub, the smoke tree can be pruned into the shape of an attractive small tree.
Allow the smoke tree to grow naturally for the first year after planting. Several branches will grow from the root crown when the tree is young as the tree grows into its natural shrub shape.
Choose the strongest trunk of the smoke tree that is growing from the ground. That trunk will be the main stem you will rely on to form the plant into a small tree. Cut all other trunks to just below the ground level. If you have an older tree, go ahead and trim away the weaker stems, or trunks, as needed to designate the main stem to form your smoke tree. Always prune the smoke tree in the winter time when the tree is dormant.
Allow the main stem to continue to grow to the desired height. As the trunk grows it will put off side branches. Do not cut off the side branches until the tree is close to the desired height. The side branches help catch the wind and prevent the tree from getting too top heavy as it grows. Continue to cut any new trunks attempting to grow from the ground around the main trunk. If you do cut off side side branches before the tree reaches the desired height, don't cut off more than the bottom one-third of the branches at any one time.
Trim off the bottom two-thirds of the branches from the main trunk and leave the top one-third of the top growth to give the smoke tree a tree form once it reaches the desired height.
Prune off side branches on the bottom two-thirds of the tree as well as any new branches that grow from the ground around the main trunk for the life of the tree. As the top one-third of the tree grows, it is up to you how broad or tall you would like the tree to grow depending on the space where it is growing. However, always prune the top of the tree to the desired shape in the winter. New growth that appears in the spring will form a thick canopy and new growth produces the most brilliant fall color.