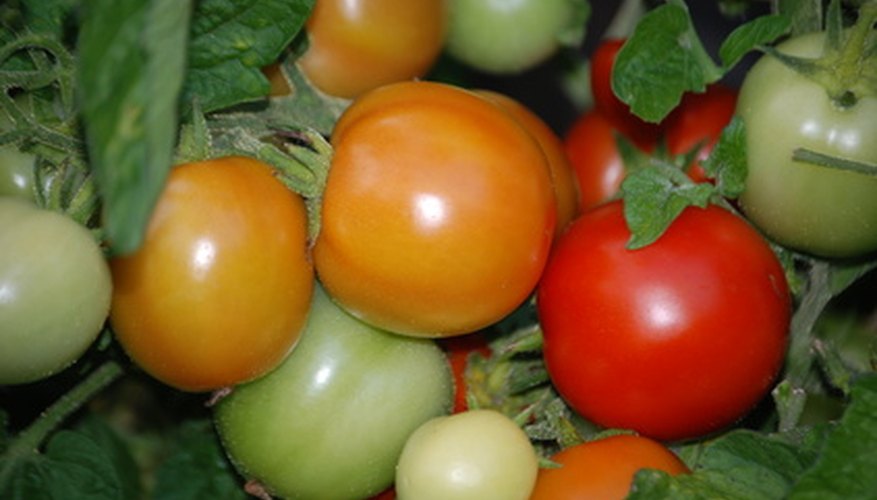 Eating a vine-ripened tomato picked right from your own vegetable garden is hard to beat. The taste of homegrown tomatoes is said to surpass any you will find at the local store produce section. Tomatoes come in different kinds of plants with hundreds of varieties to choose from, according to the University of Illinois Extension. The kinds available include determinate or indeterminate and heirloom or hybrid. Many gardeners pick tomatoes based on three factors: individual likes (use, shape and size), location (growing environment) and disease resistance.
Determinate Tomatoes
Determinate tomato plants will grow to a "determined" height and are often referred to as "bush tomatoes." The growth of determinate tomatoes is less than 6 feet (often around 3 feet) and many of these do not require staking or any kind of pruning. When tomato blossoms form in clusters on the plant, it stops growing at that point. This kind of tomato plant typically produces tomatoes quicker than indeterminate types. The majority of the tomatoes on the plant ripen at the same time. Gardeners who do not want to worry about staking or supporting the plants or providing large growing areas select these types of tomatoes. Those who prefer to harvest most of the tomatoes at the same time, such as gardeners who want to can or dry the tomatoes, pick these types as well. A few varieties of determinate tomatoes include Golden Nugget, Oregon Spring, Small Fry, Celebrity, Mountain Pride, Mountain Gold, Roma, Viva Italia, Mountain Belle and Cherry Gold.
Indeterminate Tomatoes
Indeterminate tomato plants grow to at least 6 feet tall and often reach over 10 feet in length. These types of tomatoes do require stakes or cages for support and a larger growing area. An indeterminate tomato plant keeps producing new blossoms along the vine and continues to grow until stopped by frost or pruning. This provides the gardener with a constant supply of fresh tomatoes spread out over a longer period than the determinate type. Gardeners who do not mind the extra maintenance or space required for growing, regularly select indeterminate tomato types. A few varieties of indeterminate tomatoes include Brandywine, Champion, Early Girl, Sun Gold, Top Sirloin, Early Cascade, Champion, Better Boy, Beefmaster and Super Sweet 100.
Heirloom and Hybrid Tomatoes
Tomatoes are available as either heirloom or hybrid varieties. Heirloom tomato plants also identified as open-pollinated or old-fashioned, produce the same type of tomatoes year after year. These tomatoes have been developed over a long period. The seeds from an heirloom will generate tomatoes that taste and look identical to the previous year's harvest. Gardeners who prefer to use the seeds from one year to plant next years crop, pick heirloom tomatoes. A few varieties of heirloom tomatoes include Brandywine, Early Swedish, Jubilee, Sweetie and Siberia.
A hybrid tomato plant is a crossbreed of two or more "parent" tomato varieties. These parent plants are selected for a specific favorable attribute. The seeds produced in these tomato plants will not produce the same type of plant the next growing season. Gardeners who do not plan to use the seeds to grow more tomatoes, select hybrid tomatoes. A few varieties of hybrid tomatoes include Dona, Fantastic, Lemon Boy, Mr. Stripey and Sweet Million.