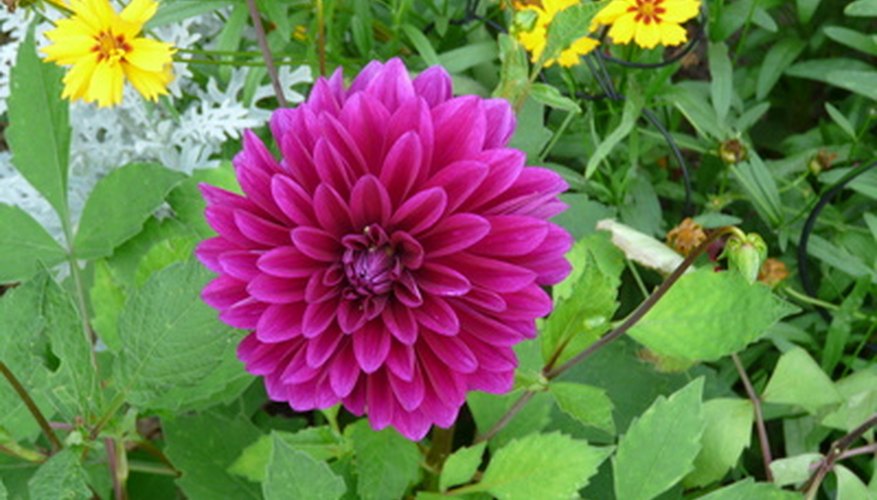 Dahlias have impressive flowers held atop tall flower stalks. Available in a variety of colors and petal types, a dahlia bed adds both texture and color to your garden design. Dahlias are a tender perennial. They do not tolerate frost, so usually must be dug up and stored indoors until temperatures warm up in spring. They grow from a tuberous root system, similar to a rhizome or bulb, that is dug once the plant goes dormant in fall. Replanting your dahlia flowers properly each spring ensures they thrive for many years.
Apply a 5-20-20 analysis, or similar fertilizer, to the dahlia bed one month before the last expected frost in spring. Apply at the rate recommended on the package, then work it into the top 6 inches of soil. This gives the fertilizer time to penetrate the soil prior to planting.
Lay a 2-inch layer of compost over the dahlia bed once all frost danger has passed. Till the compost into the bed then water the soil until it is evenly moist to a 6-inch depth.
Dig the planting holes to the same depth as the thickness of the tuber and slightly wider. Set the tuber into the hole with the crown, which is where the stems emerge from the root system, just above soil level. Space the tubers 9 to 12 inches apart in all directions.
Install a stake behind each tuber right after planting. Tie the dahlia stems loosely to the stake as the plant grows.
Water and fertilize the dahlias regularly. Water once weekly, wetting the soil to a 6-inch depth at each irrigation. Fertilize once a month through August with a soluble 5-20-20 fertilizer, at the package-recommended rate.
Things You Will Need
Fertilizer

Spade

Compost

Stake
Tip
Dahlia tubers have buds that are similar to the eyes on a potato. Plant tubers with these on top if there are no stems in place yet.
Warning
Do not replant dahlia tubers that are shriveled or rotten. Even if these do grow, they may spread disease to the healthy tubers in the garden.