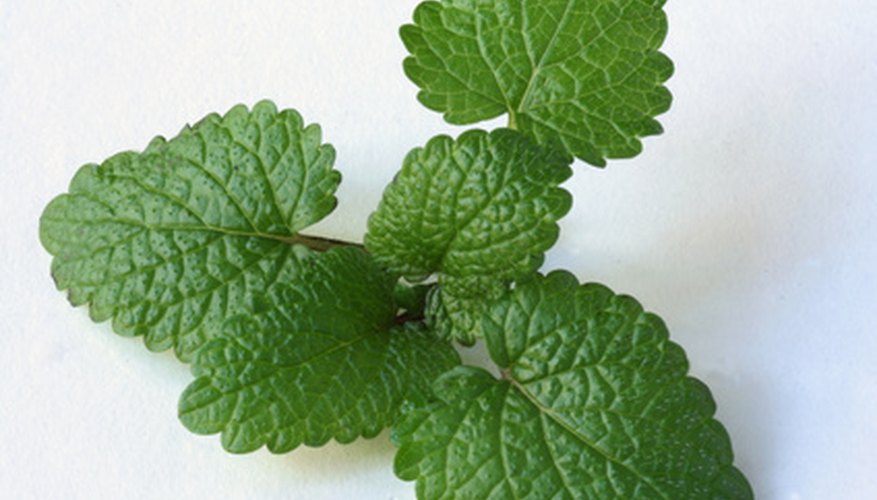 Lemon balm, also called Melissa officinalis, is a member of the mint family. Pleasing spade-shaped foliage is present year-round and releases a pleasant lemony scent whenever it is disturbed. If you touch it with your hands, they will have a lingering fresh, lemony scent for quite awhile. Plant lemon balm alongside any plants you want bees to pollinate. Harvest the leaves as frequently as you like for salads, cooking, marinades, vinegars and teas. Leave a mere 2 to 3 inches on the plant, and it will grow back vigorously.
Lemon Balm Tea and Salad
Harvest lemon balm leaves by plucking the largest ones from the plant. Drop into a bowl to collect. Harvest only around 10 or so per recipe to start. Adjust the amounts once you know how strong you want the flavor to be.
Harvest mint leaves in the same fashion, using only five per recipe.
Roll 10 mint and five lemon balm leaves up into a single bundle together. Slice the bundle thinly; this process is called chiffonading. Divide chiffonaded herbs in half.
Pour boiling water over half the herb mixture in a mug. Steep for 3 to 4 minutes; discard herbs. Drink alone as soothing herbal tea, or add honey for sweetness.
Sprinkle other half of herb mixture over the top of a salad and dress according to your taste.
Roast Chicken with Lemon Balm
Preheat your oven to 375 degrees F. Chiffonade 10 more lemon balm leaves, along with leaves from one sprig of rosemary, 10 tarragon leaves and three sage leaves. Mash herbs into 1/2 stick softened butter to create compound butter.
Peel and chop two carrots, two stalks of celery and one onion roughly and arrange on the bottom of a roasting pan.
Work compound butter under the skin of a whole chicken with your fingers. Try to work it throughout the whole chicken, including into the legs and wings. Lay the chicken, breast facing up, on top of the vegetables in the roasting pan. Lightly salt and pepper the bird.
Roast chicken for 1 hour and serve.