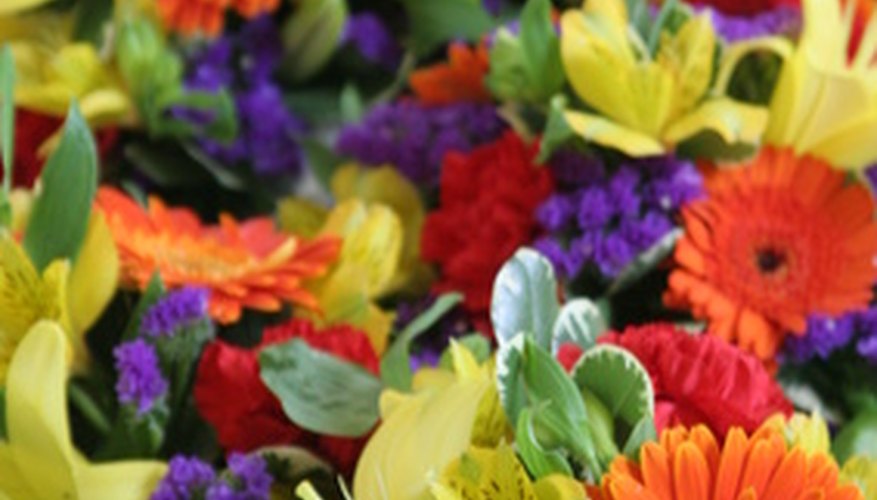 Making your own flower arrangements is relatively inexpensive, especially if you use flowers fresh from the garden. It also allows you to be in control of creating the arrangement exactly how you want it. Once you learn the basic steps for arranging flowers, you will be able to produce quality arrangements that can be used for weddings and parties, or just to brighten your home.
Select the flowers you wish to use in your arrangement. You will need focal flowers, such large flowers as tulips, roses, daffodils, irises and daisies; filler flowers, such as baby's breath, Queen Anne's lace, feverfew and aster; and greenery, such as ferns, magnolia leaves and ivy.
Cut your flowers midmorning before it gets too hot, if you're using ones from your garden. Choose flowers that are not completely open for longer-lasting arrangements. Cut the stems at a 45-degree angle and trim off any leaves that will be below the water line in the vase or container. Soak the flowers in a gallon bucket of warm water with 1 tablespoon of flower food mixed in; soak for at least one hour or overnight in a cool room, such as a basement or garage.
Select a vase or container to use for the arrangement. Use any size that matches the flowers you chose, such as a tall, slender vase for one or two roses or daisies, or a short, wide container for a dozen or so flowers. Consider using various types of containers, such as old coffee cans, galvanized buckets, Chinese take-out containers or glass soda bottles.
Use floral supplies to help create a professional-looking arrangement. Floral tape can be used to create a grid across the opening of a vase or container, by crisscrossing the tape across the opening, and inserting flowers into the squares created by the tape to help them stay in place. Floral foam can be placed into the bottom of a container to hold the flowers upright and floral wire used to lengthen short stems or wire together flowers.
Place the focal flowers into the container, with the taller ones in the middle and shorter ones out around the edges. Then place the filler flowers around the focal flowers and add the greenery to the outside edges of the arrangement.
Add a ribbon around the container or vase for a finishing touch. Alternately, wrap tissue paper, a piece of fabric or burlap around the container and tie with raffia or ribbon. Clear vases can have a layer of glass stones placed on the bottom, food coloring added to the water, or sliced lemon or lime slices added on the inside of the vase.