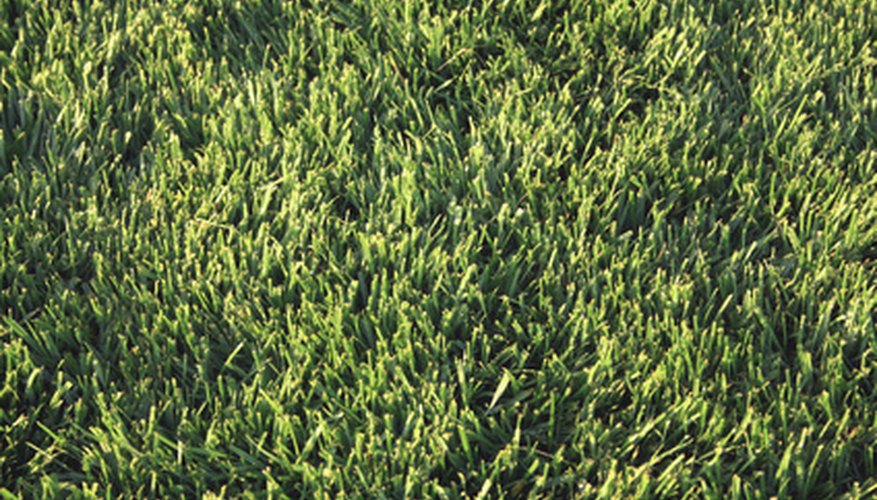 The lush green of your beautiful lawn has faded in some places, leaving the sight of dirt behind. When weeds and bare spots have taken over, it is time to regain control of your lawn. Whether the bare areas are high traffic paths the kids have worn in or from the neighbor's dog, they can be lush and green once again.
How to Restore a Damaged Grass Lawn
Remove the existing grass and soil from the damaged areas. Dig the grass and soil out with a pointed shovel, removing 2 inches of soil from the area. Remove large rocks and debris. Fill the area with topsoil. Bring the damaged area even with the existing lawn. Apply a starter fertilizer to the damaged area with a hand spreader. Coat the soil with fertilizer and rake into the soil.
Apply seed to the damaged area. Fill the hand spreader with grass seed and turn the handle, covering the entire surface with grass seed. Lightly sprinkle topsoil over the seeds. Do not cover the seeds with more than 1/4 inch of soil. Press seed into the soil with your hand.
Water the soil and seed. Keep the area moist, but not soaking wet. Cover the damaged area with a seed blanket or straw to prevent run-off of the seed. Do not walk over this area while the seeds are germinating. This will disturb the process and prevent optimal growth. Continue to water, keeping the soil moist. Sprouts will appear within three weeks.
Mow the new sprouts with a sharp blade at 3 inches high. Sprouts can be treated like the rest of the lawn once the first mowing has occurred. Do not use a weed control product for the first three months.