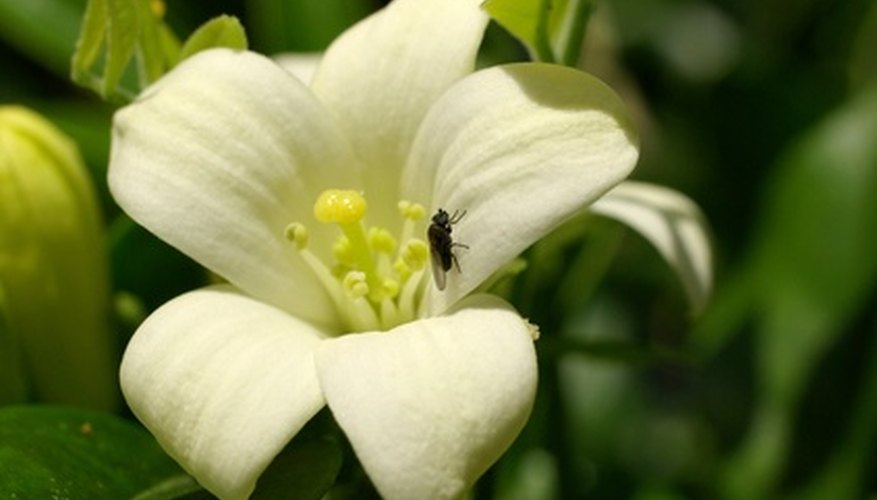 The mock orange (Philadelphus virginalis) grows approximately 8 feet tall, but numerous varieties and cultivars produce heights that vary between 3 feet and 20 feet. The shrub produces large, 2-inch, single or double white flowers. The flowers smell similar to the blossoms produced by citrus trees and make excellent cut flowers. The shrub is often planted as a hedge, as a specimen beside a walkway, or in a large group. The mock orange offers fast, vigorous growth and is relatively easy to care for.
Plant the mock orange in full sunlight or partial shade. Choose a site that offers well-draining soil. The mock orange will grow in a wide variety of soils with ease but prefers sandy loam. It does not tolerate standing water well. Plant bare-root plants or transplant existing mock orange plants from November to April depending on your region.
Apply 2 to 3 inches of mulch, such as peat moss or bark chips, around the base of the mock orange. The mulch helps shield the shrub roots from the intense sunlight, keeps weed growth minimal, and helps the soil retain moisture.
Water the mock orange weekly. The plant enjoys moist soil conditions.
Fertilize the mock orange using a 10-10-10 or 12-12-12 granulated fertilizer in March. Sprinkle around the shrub at least 6 inches from the shrub stems. Water the fertilizer into the soil thoroughly.
Prune the mock orange two years after planting. Remove a third of the plant's old growth after flowering is complete. Moderately trim new shoots to encourage the shrub to develop a bushy appearance.