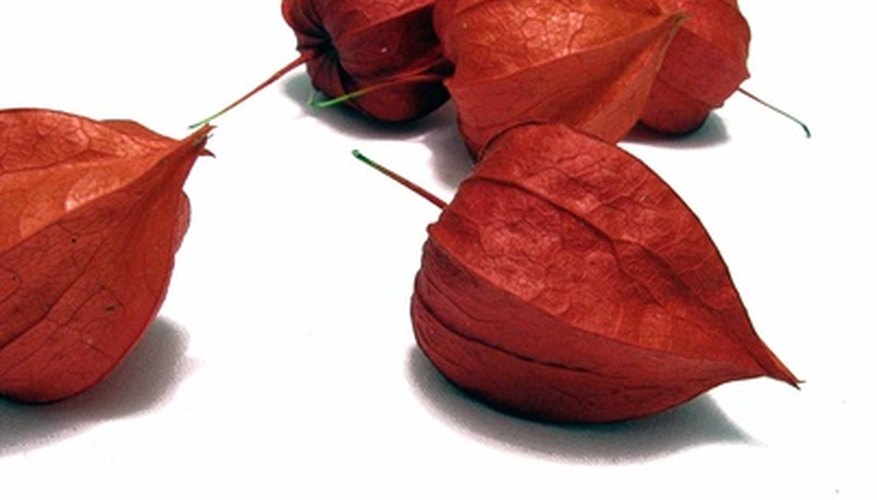 Physalis alkekengi is a perennial plant popularly grown for its brilliant, red-orange seed pods that look very similar to Chinese lanterns. In fact, Physalis alkekengi is commonly called the "Chinese lantern plant." The 2-inch long pods are often dried and used as indoor decor. Physalis alkekengi flowers in the spring with tiny, white blooms. The plant can grow to a maximum height of 2 feet, according to information published by the University of Minnesota. Care of this plants is easy, making Physalis alkekengi a top choice for home gardeners in warm climates who want a distinctive perennial.
Choose a planting site that is in either full sun or partial shade. While Physalis alkekengi will grow equally well in both conditions, it blooms best in full sun.
Plant young Chinese lantern plants 2 to 3 feet apart, as they self-seed readily and will quickly spread. In fact, they can overtake nearby plants, according to the University of Minnesota, so give them plenty of space. They grow well in all types of soil, including acidic and clay; but they prefer rich, slightly acidic soil.
Water your Physalis alkekengi when the top inch or so of the soil dries out. While the plant can survive temporary drought conditions, it prefers consistently moist soil. Avoid overwatering, as this can lead to the development of fungal diseases in the soil and in the roots of the Chinese lantern plant.
Prune the plant to the ground after the first freeze of fall. This will prevent it from growing out of control. Cut down and discard the seed pods if you don't want the plant to self-seed.