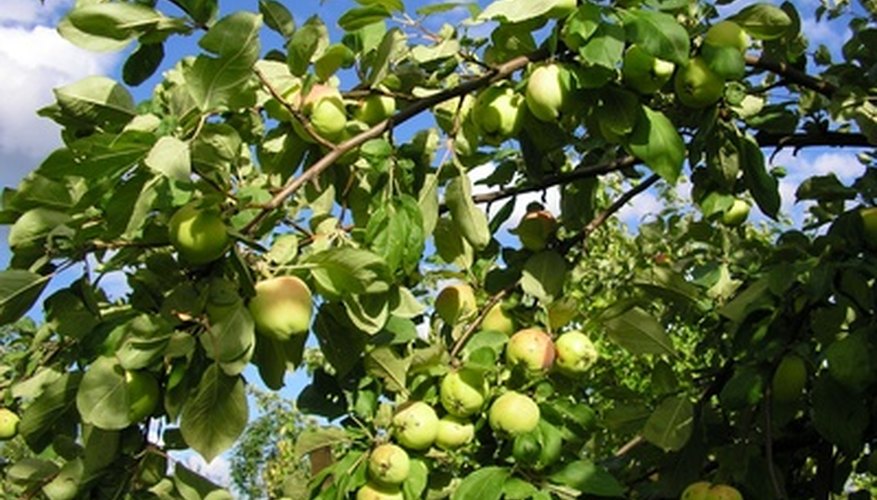 With more than 1,100 fruit farms that grow apples, Michigan ranks either second or third in apple production behind Washington state and sometimes New York. Michigan's climate is therefore a perfect climate for growing apples in your own backyard. After you plant, with the right tree selection, such as Golden Delicious or Wolf River varieties, you can enjoy fresh apples your first growing season or in several years, depending on the age of the tree when you purchase it.
Find out which USDA Plant Hardiness Zone you live in to know which apple trees you should buy. Michigan is home to zones 3 through 6. The U.S. National Arboretum and National Gardening Association websites have colored zone maps that will help you locate your home's zone. The National Gardening Association site allows you to easily look up your zone by zip code, if desired.
Select apple trees rated for your zone; if you live near a border of a colder zone, consider buying one that is rated one zone cooler so an exceptionally cold winter does not kill or harm your trees. For example, if you live in the middle of the Lower Peninsula in zone 5 but close to zone 4, choose a tree that is rated hardy to zone 4 rather than zone 5, to be on the safe side.
Calculate how many trees you can plant in the space you have. Depending on the variety and type of tree you purchase, spacing will vary greatly. Adhere to the spacing requirements for your particular tree. On average, apple trees are spaced about 15 feet apart.
Decide where to buy your apple trees, such as from a local Michigan nursery (for example, The Apple Branch Nursery in Portland, Michigan) or an online nursery (such as Nursery Hills). Online nurseries will carry smaller trees, usually only about a foot high, and you will not reap a harvest for at least three years. On the other hand, local nurseries will most likely carry larger trees that will produce a harvest the first year. Buying local also means you can hand-pick the tree you want.
Purchase your tree or trees. If you buy from a local nursery, the trees should look healthy, have a strong trunk, and have no spots on the trunk or leaves. If you're buying from an online nursery, check to see if the online nursery's apple trees come with a warranty since you are not choosing the trees yourself. Research the Better Business Bureau website for any complaints since most reputable online nurseries are members.