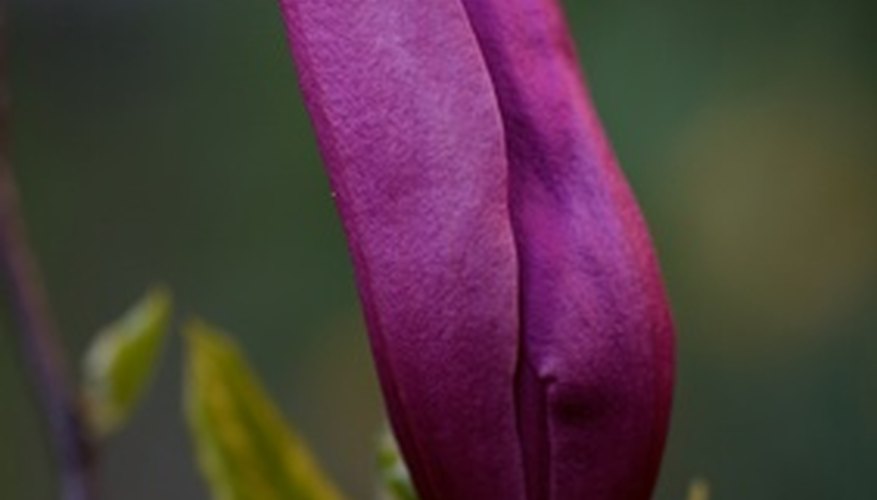 Purple flowering trees bring a rich, jewel-like quality to the garden that lights up the landscape. Grown in varying shades of purple, some tinted with reds and pinks, purple flowering trees complement a wide range of other plant colors in the garden. Some purple flowers emerge in spring, while others keep their blooms into fall for a long-lasting garden display.
Chinese Redbud
Chinese redbud (Cercis chinensis) is a deciduous tree with rosy purple blooms. Growing 8 to 12 feet tall and 6 to 8 feet wide, Chinese redbud trees have a multi-stemmed, upright form. The heart-shaped leaves on Chinese redbud trees grow 5 to 6 inches long to turn yellow in fall. Chinese redbud trees are easy to transplant and have medium texture. The purple blooms emerge in spring to last through the season. Chinese redbud trees grow best in full sun and moist, well-drained soil. Versatile, they tolerate a wide range of soil varieties. Plant Chinese redbud trees in U.S. Department of Agriculture (USDA) Hardiness Zones 6 to 9.
Crape Myrtle
Crape myrtle (Lagerstroemia indica) is a deciduous tree with a rapid growth rate and medium texture. Growing 15 to 30 feet tall and 6 to 15 feet wide, crape myrtle trees have a rounded, upright form with dense branching. The bright, clustering flower on crape myrtles include, purple, red, white, and pink. Emerging in July, the panicles of blooms last into fall. The bark on crape myrtle trees is smooth to exfoliating in texture. The whorled green leaves grow 1 to 3 inches wide to turn a fiery red, orange, and yellow in fall. Crape myrtle grows best in full sun and moist, well-drained soil. Plant crape myrtlein USDA Hardiness Zones 7 to 9.
Galaxy Magnolia
Galaxy magnolia (Magnolia "Galaxy") is a deciduous tree with a moderate growth rate and clumping growth habit. Growing more than 30 feet tall and 15 to 30 feet wide, galaxy magnolia has purple-to-red blooms that light up the tree every spring. Candy-scented, the goblet-shaped blooms grow 10 inches wide. The pyramidal shape makes for an ideal specimen tree to grow among the front yard landscape. Galaxy magnolia requires full sun to part shade, and acidic to neutral soil that is well-drained and moist. They do not tolerate wet feet and are prone to late frosts. Prune the galaxy magnolia in late winter or late summer to ensure they don't bleed their sap. Plant it in USDA Hardiness Zones 5 to 9.