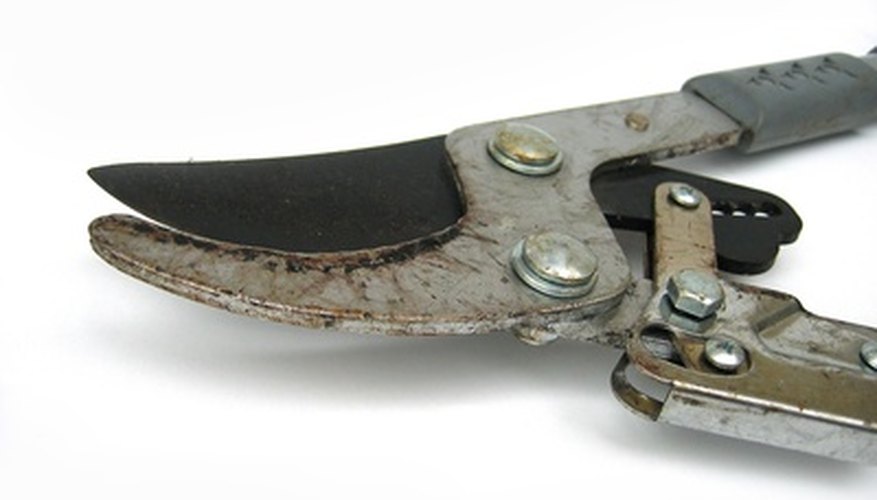 Pruning shears are a fundamental home and professional landscaping tool. Hand pruners are necessary to trim back rose bushes, to remove old growth from berry canes and vines to encourage new fruit, to deadhead flowers, and to trim hedges, shrubs and trees into shape. Be sure to use the best pruning shears for each task at hand.
Bahco P2-22 Rotating Handle Pruners
Vinyard pruning experts interviewed by Practical Winery and Vineyard Magazine in the article "Pruning Without Pain" strongly recommended rotating handles to reduce hand muscle fatigue and incidents of tendinitis from extended pruning sessions. The magazine cites Daniel Robledo, the viticulture program coordinator at Santa Rosa Junior College in California, particularly advising the use of Bahco hand pruners for their ergonomic designs to fit any hand size and the availability of the rotating handle to ease hand strain. The Bahco P2-22 Rotating Handle Pruners are 9-inch bypass pruners with a lower handle which rolls in the fingers as the pruners are squeezed, thus minimizing friction and blisters for home gardeners and professional pruners alike.
Felco F31 Anvil Pruners
Although many professional gardeners prefer bypass pruners, the Louisiana State University Extension reports that Dick Parish, an engineer with the Louisiana State AgCenter, says anvil pruners make a cleaner cut with less crushing of the plant stem. Anvil pruners have only one sharpened blade, which descends upon a flat wide anvil, slicing the intervening branch like a guillotine. Daniel Robledo, cited in Practical Winery and Vineyard Magazine, advises that along with the ergonomic Bahco pruners, the best hand pruners are manufactured by Felco. The model F31 is Felco's sole anvil model. It features an adjustable coated brass anvil to ensure the anvil/cutting blade surface remains true and offset handles for greater cutting leverage and ease of use. Its cutting blade has a centered edge, beveled on both sides, for the most powerful cutting action.
Felco Model F2 Bypass Pruners
Bypass pruners have two sharpened blades which slide by one another scissors-fashion. The Washington State University Kings County Extension advises that bypass pruners are the only variety which should be used for pruning roses. For grapevine pruning, experts interviewed by Practical Winery and Vineyard Magazine also recommended secateurs, or small, sharp bypass pruners. The original Felco Model F2 remains one of the most popular pruners in the world. Its upper cutting blade is Swiss-made hardened steel and can be replaced when it has become too worn to resharpen. The center pivot bolt is adjustable to ensure clean cutting action, and the forged aluminum handles are light and virtually unbreakable--and come covered in bright red grips which are easy to find when dropped amongst the garden greenery.