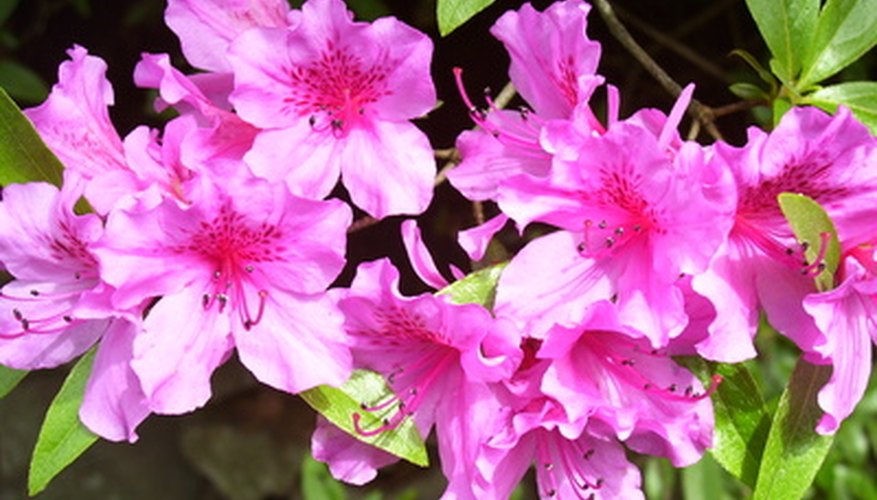 Azalea blooms are a beautiful addition to the landscape, with springtime blooms so beautiful they can take your breath away. In spite of the fragile beauty of the blooms, azaleas are tough, sturdy plants that will live for many years with only moderate maintenance. Although azaleas can be damaged by dry winter winds, the plants will usually emerge from winter unscathed, as long as the azaleas are planted in a sheltered area near a building or a taller, protective tree.
Plant azaleas where the shrub will be exposed to morning sun, but protected from strong, drying winds and hot afternoon sunlight. Azaleas will thrive in well-drained soil that has been amended with an organic material such as compost, leaf mold or manure.
Fertilize azaleas, using a fertilizer formulated for azaleas and rhododendrons, after the plant is finished blooming every spring. Apply the fertilizer according to the directions on the container.
Apply 3 to 6 inches of mulch around the base of azalea bushes after feeding the plant every spring. Mulches such as straw, pine needles, dry leaves or bark chips will deter weeds, retain soil moisture and keep the soil temperature even. Replenish the mulch as it decomposes or blows away, but don't allow it to pile up against the trunk of the azalea.
Prune azaleas only if needed to control growth, as azaleas generally need very little pruning. If you determine that the plant needs pruning, shape the bush with a light pruning after the azalea is finished blooming in spring.
Keep the soil evenly damp throughout spring and summer. Allow the soil to dry out in September so the azalea can harden up for the coming winter. Water the azalea deeply in late November, as the azalea can be damaged in dry, frozen soil.
Add a fresh layer of mulch around the azalea before the weather turns cold in winter. Don't allow the mulch to cover the entire shrub if the azalea is young or recently planted. Remove the winter mulch in spring.
Protect the azalea from cold winter winds and hard freezes with a windscreen constructed from evergreen boughs, such as the boughs of a Christmas tree. Anchor the evergreen boughs by tying them to wooden or metal stakes. Be sure to drive the stakes into the ground several inches from the azalea so that the roots aren't damaged. If the azalea is exposed to extremely cold wind, build a temporary fence around the shrub and cover the fence with burlap.