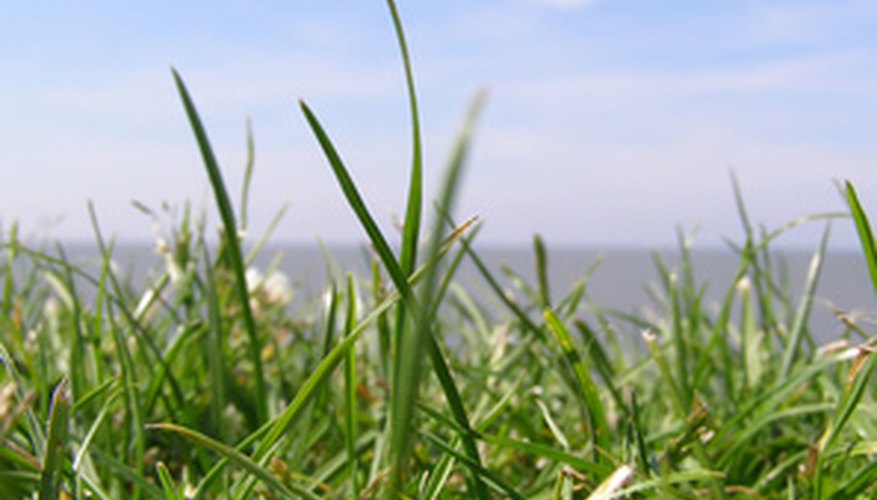 St. Augustine grass is popular in Texas because it thrives in hot summer temperatures and enjoys the mild winter weather. With good soil and irrigation, St. Augustine grass slowly grows a thick, lush turf that needs only occasional mowing. It grows well in acidic and alkaline soils alike and crowds out weeds and other grasses. Healthy, established St. Augustine grass is low-maintenance, requiring only regular mowing, irrigation and fertilizer to maintain a lush, dark-green lawn.
Water St. Augustine grass daily immediately after planting, then decrease watering gradually to once a week. Give 3/4 to 1 inch of water weekly
Fertilize St. Augustine grass with a balanced fertilizer after planting. Continue fertilizing at a rate of 1 lb. of nitrogen and 1/2 lb. of potassium per 1,000 square feet monthly during the spring through late fall. In highly compacted soils, reduce fertilization to every other month.
Apply an herbicide specially formulated for St. Augustine grass. St. Augustine grass grows thick and is able to crowd out most weeds.
Mow every one to two weeks to maintain the grass between 1 and 3 inches tall, cutting away only 1/3 of the blade with each mowing.
Remove both ends of a coffee can and insert halfway into the ground at the edge of a browning or yellowing patch to check for chinch bugs. Fill the can with water and wait about 10 minutes. Chinch bugs will float to the top. Control chinch bugs with two or more applications of insecticides per season as needed.
Things You Will Need
Fertilizer

Herbicide

Lawn mower

Coffee can (optional)

Insecticide (optional)