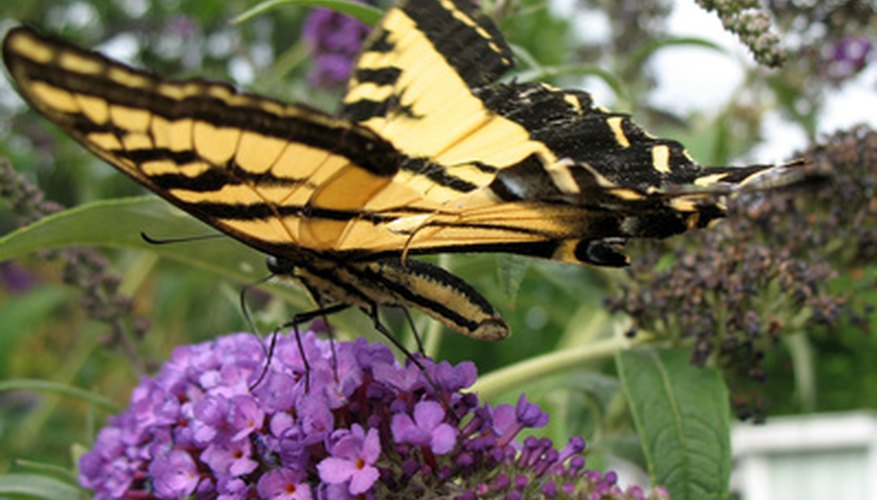 Landscape design ideas using flowers are as numerous as the types of blooms themselves. Some gardeners choose to focus on one particular species that they favor. Others mix-and-match to suit their tastes. Landscapes also incorporate different uses, such as drawing certain types of wildlife and providing nice places to read, and include decorative features for form, function, and beauty. Concentrate on one or a handful of concepts to create a flowery area.
Cottage Garden
Grow a cottage garden that includes annuals and perennials of different forms, heights, and bloom times. Focus on one specific color, or landscape with a warm or cool color palette in mind. Consider the size of the house, shed or other structure you are seeking to enhance in order to provide balance rather than overwhelming it with plants. Cultivate plants with similar care requirements that are easy to maintain and are not aggressive growers.
Annual Beds
Purchase several seedling annuals that will bloom throughout the summer. Plant different varieties of impatiens in shady gardens and petunias in full sun. Buy showy tropical flowers, some of which will grow as annuals in cooler climates, such as hibiscus. Plant in groups of three or five for maximum impact. Create different ground levels at random locations to showcase flowers of different heights. Design geometric patterns with colored blooms, or repeat textures and shapes. In late summer and early fall, transform the beds with chrysanthemums and asters.
Butterfly Garden
Create a garden that butterflies will love by planting nectar-producing flowers that these winged insects commonly feed from, and host plants for shelter. Grow vibrant orange butterfly weed, light purple coneflowers, Joe-Pye weed, milkweed, and Black-Eyed Susans. Some plants that butterflies are attracted to also draw hummingbirds.
Rose Garden
Cultivate a rose garden with different kinds of roses, from hybrid varieties to smaller tea roses to old-fashioned plants. As an alternative, grow the same types and colors of roses in one plot.
Choose a site that has full sun, or one that has morning sun and well-drained soil. Plant hardy roses that are disease-resistant. Organize them in rows, stagger them, or grow them around a focal point such as a seating area or water fountain. Mulch around each of them to help retain soil moisture, and prune them as necessary.
Additional Features
Add practical and aesthetic features to each flower garden. Include a few weather-proof decorative items found at yard sales, antique stores, and garden centers that are in keeping with your personal style. Place some chairs, a bench, stone path or stepping stones around or in the landscaped flowerbed to leisurely enjoy it.