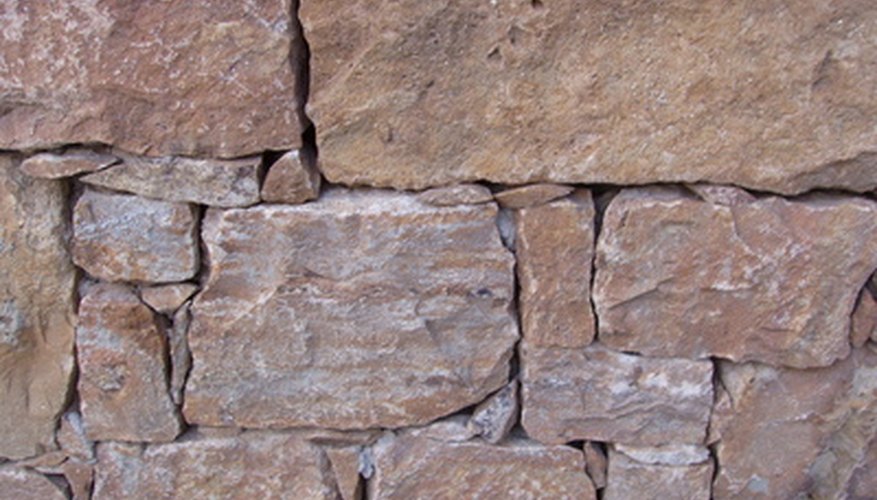 Many experienced gardeners use raised beds to provide their flowers and vegetables with extra growing soil. According to Dr. William Johnson, a horticulture agent with Galveston County Cooperative Extension in Texas, advantages of raised beds include earlier soil warmth during the spring growing season and quicker soil drainage after heavy rains. Stones provide a long-lasting alternative to board sides for your raised gardens. Harvest stones directly from creek beds and fields on your own property--if you're on a tight budget--or purchase them from a local rock yard.
Hammer wooden stakes into the ground to mark the corners of each raised garden area. Run a taut string between the wooden stakes to mark the inside edge of the stone that will surround each garden area. Plan for your stone garden sides to be approximately half as wide as they are tall; for example, if the sides are to be 14 inches tall, then you'll want them to be at least 7 inches wide.
Dig a 6-inch-deep footer trench around the outside edge of the marking string, using a shovel. The trench should be approximately 3 to 4 inches wider than the base of your stone sides to provide plenty of stability for the garden bed sides; for example, if the base of the sides is to be 7 inches wide, you'll want the footer trench to measure 10 to 11 inches wide.
Fill the bottom 3 inches of the footer trench with gravel or sand. Level the footer material with a shovel.
Place the bottom layer of stone on the footer material to provide the base of the raised garden sides. Start at one of the corners and work around the perimeter of each garden area. Lay flat stone edges along the outside edge of the wall to keep it straight. Fit the stone together tightly to minimize cracks.
Build the rest of the stone sides one layer at a time, staggering the joints between each layer of rock to make the structure more sturdy. After you've placed the final layer of stone around the perimeter of the raised garden, fill the bed with topsoil. Use equal amounts of plain soil and mature compost to provide, fertile, well-draining garden soil. Add enough soil to make the level of the bed even with the stone sides.