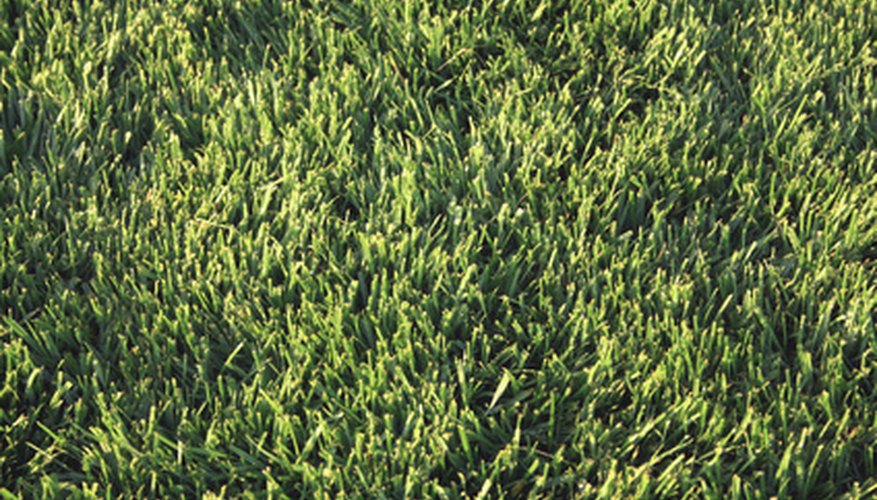 Select the right type of sod for your lawn by considering the amount of traffic it will need to withstand, the amount of shade on the site, the desired drought and cold tolerance and the level of care you are willing to provide. Sod has some distinct advantages over seeding a lawn: placing sod may be done any time the soil can be worked, and it takes less time to establish than seed, providing an almost instant lawn.
Rid the existing lawn of weeds by applying a translocated herbicide (one that moves within plant) according to package directions. You may dig the weeds by hand, but if decide to do so, make sure to remove as much of the root as possible to prevent regrowth.
Test the soil to determine what nutrients it may lack. Amend the soil according to the soil test results. Apply a lawn starter fertilizer and till it in as you work the soil to a depth of 6 to 8 inches. A 2-inch layer of compost may also be tilled in to improve general soil condition.
Rake the soil to level it out. Remove plant roots or sod clumps, break up clods of soil and create an even surface.
Install sod as soon as you get it. Begin by placing sod along a straight edge, such as a driveway or sidewalk. Push edges together tightly and take care not to stretch sod pieces. Stagger the seams in a bricklike fashion. Cut sod pieces to fit as needed, using either a spade or a knife.
Water the sod immediately. If several people are working on the project, one can begin watering the sod while it is still being placed. Water until the sod and soil are moist but not to the point of making them soggy.
Continue with daily watering until the sod roots grow down into the soil. Additional watering may be necessary on especially hot, windy and dry days. Switch to deeper less frequent watering once the sod is well rooted.