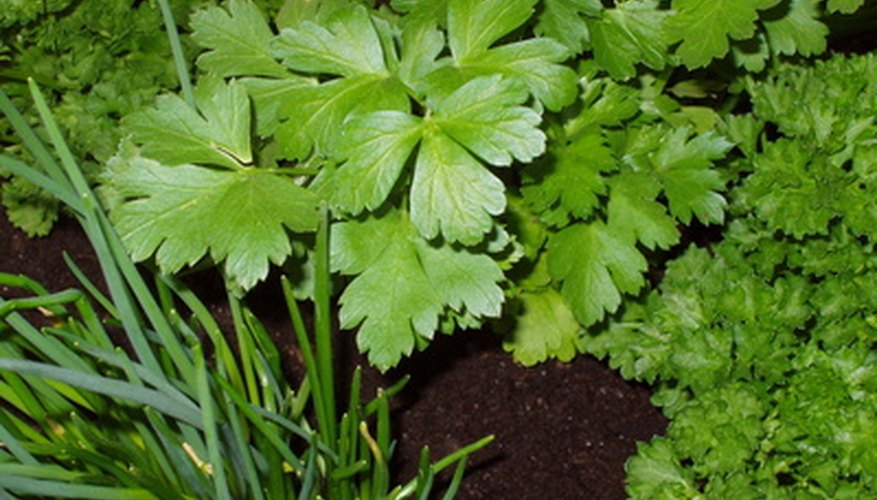 A kitchen herb garden provides fresh seasonings for your favorite recipes throughout the gardening months, and the herbs can be frozen or dried for winter use too. If you don't have a lot of space for a herb garden, try planting a few of your favorites in a plastic laundry basket, on the patio or near the back door. Laundry baskets are inexpensive, and the holes in the sides can be used to grow more herbs than you could in a normal plant container.
Drill four 1-inch diameter holes in the bottom of the laundry basket to provide drainage. Space the holes at an even distance apart.
Line the basket with black, fabric landscaping cloth. Drape the edges of the fabric over the sides of the basket and clip them to the basket rim with large binder clips, which are readily available at office supply stores.
Mix the potting soil with a granular complete fertilizer. Follow the application amounts listed on the fertilizer package, as application amounts depend on the amount of soil you are using.
Fill the laundry basket half-full with the potting soil mix. Water it until it is evenly moist throughout.
Punch holes in the landscaping fabric where the side holes are in the laundry basket, if the basket you are using has side holes as part of its design. Plant small or trailing herb plants into these side holes, such as mint, parsley or oregano. Fill in above the roots of these plants with more soil until the basket is filled to within 2 inches of the rim.
Plant herb plants into the top of the basket. Space them at one-half the recommended distance for garden bed planting, as detailed on the plant label.
Water the basket from the top until the excess moisture begins draining from the bottom. Check the moisture level each day and water when the soil begins to feel dry to the touch. Container gardens often require daily watering.
Harvest leaves from the outside of the plants as needed. Cut the leaves off at the base of the plant, leaving the leaves in the center of each plant to continue to grow for future harvesting.