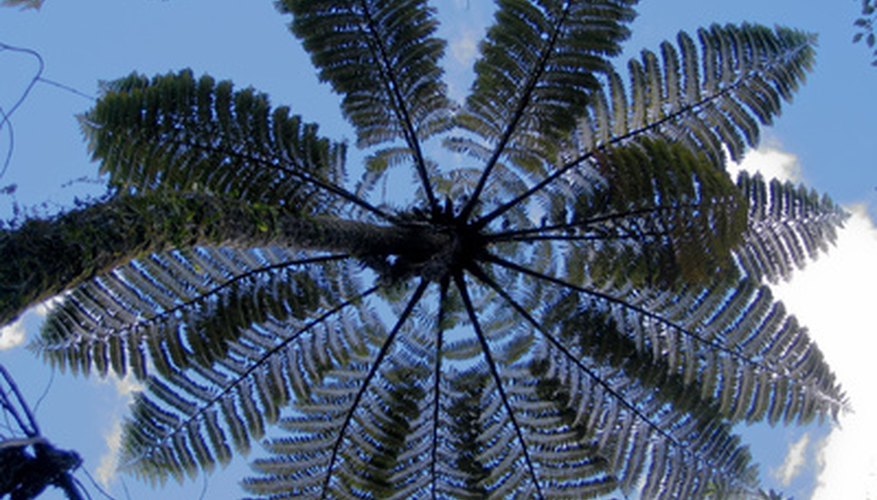 Taxonomically speaking, the tree fern is a member of the Cyatheales order, which includes a number of different species. Notable examples include the Hawaiian and Australian tree ferns. In the home landscape they add dimension and a rich color complement. The habitat requirements of various tree ferns are remarkably similar, no matter which species the hobbyist considers.
Features
Elongated trunks set tree ferns apart from other species within the Cyatheales order. These trunks ensure that the fronds tower well above ground-level plants. For example, the Australian tree fern may grow as tall as 15 to 30 feet. Leaf shapes are long with broadened midsections. Like other ferns, tree ferns are evergreen plants that do not change leaf color in the fall.
Geography
In addition to Hawaii and Australia, tree ferns grow in New Zealand and other regions with tropical, subtropical or temperate rain forest conditions. Locations that represent the latter include Central California and northern Spain. On the Hawaiian Islands, tree ferns prefer wetter areas.
Temperature Considerations
As a general rule, the Australian tree fern grows well in areas that represent USDA hardiness zones 10b to 11. Temperatures range from 35 degrees to above 40 degrees Fahrenheit. Heat must not be so high–and airflow not so strong–that it would eliminate the humidity the plants require.
Function
In the home garden, tree ferns provide greening effects for decks, patios and flower beds. Since they do well in a warm indoor environment, they also make suitable potted plants for home or office uses. As these plants grow up to be tall, it is important to place them where they will have room to grow.
Landscape Requirements
American hobbyists in hardiness zones 10b and 11 can recreate the natural habitats of the tree ferns by planting them in shady spots. The soil must be acidic–falling within the pH range of 5.5 to 6.5. It should also be well-drained and consist of sand, loam or clay mixed with organic matter. It is a good idea to plant tree ferns about 36 to 60 inches apart. The Hawaiian tree fern can measure up to 9 feet in length and have a 15-foot spread.