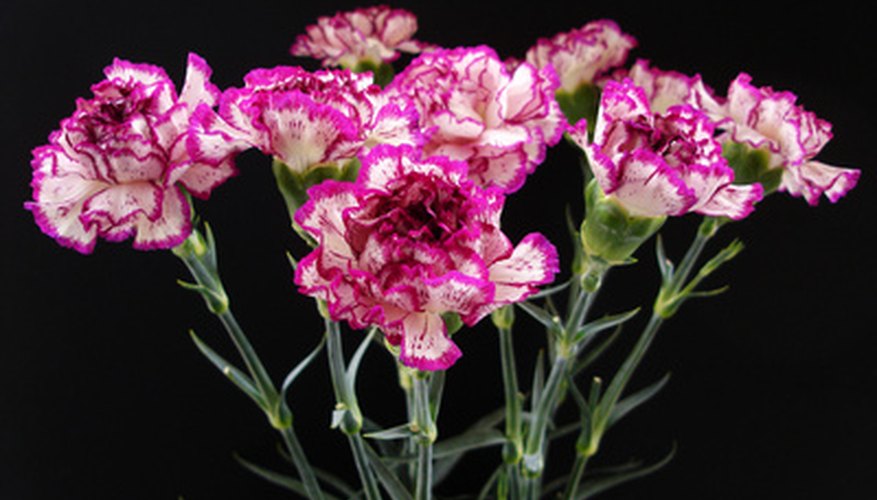 purple and cream carnations image by Martin Heaney from Fotolia.com
The easiest and most popular way to change the color of white or light-colored flowers is with food coloring. Almost any flower can be used, and, depending on the strength of your colored water and how long your flower drinks it, you can change anything from just the color of the petal edges to the color of the entire petal.
Create a Custom-Colored Bouquet
Fill a vase or container with warm water. Your cut flowers will last longer and take up water better if your water is warm, as opposed to cool or cold.
Add your food coloring to the warm water. You can mix the colors of food coloring to create exactly the hue you want. Also, the strength, or amount, of food coloring you add to your water will determine the intensity of the color in your dyed flower. In most cases, 10 to 20 drops in your water is enough to create a noticeable color change in your flowers. More food coloring will give you a deeper, darker color, while less will make a lighter color.
Mix 1 tsp. sugar into your colored water. Sugar is the food your cut flowers need to survive. Additionally, the sugar will help your flowers take up the colored water faster and more completely.
Use a sharp knife to cut 1 to 3 inches off the ends of your flowers. Your cut should be at a 45-degree angle, which will offer the maximum cut exposure for the stem end. This will allow your flower to take up as much colored water possible.
Check your flowers after an hour, and every hour or two thereafter, until your flowers have reached the color you desire. It may take as long as 12 hours or more to completely color your flowers. If you only want the edges, or accents, of the flower petals colored, when they have reached that stage, you will need to transfer your newly colored flowers to clear fresh water, to stop the dyeing process.
Things You Will Need
Long-stemmed white or light-colored cut flowers

Sharp knife

Water

Vase or container

Food coloring

Sugar
Tip
Trim an inch off your flower stems every few days to keep them fresh. Newly cut stems will continue to take up sufficient amounts of water. Also, change the water your cut flowers are in every day or two to make them last longer.