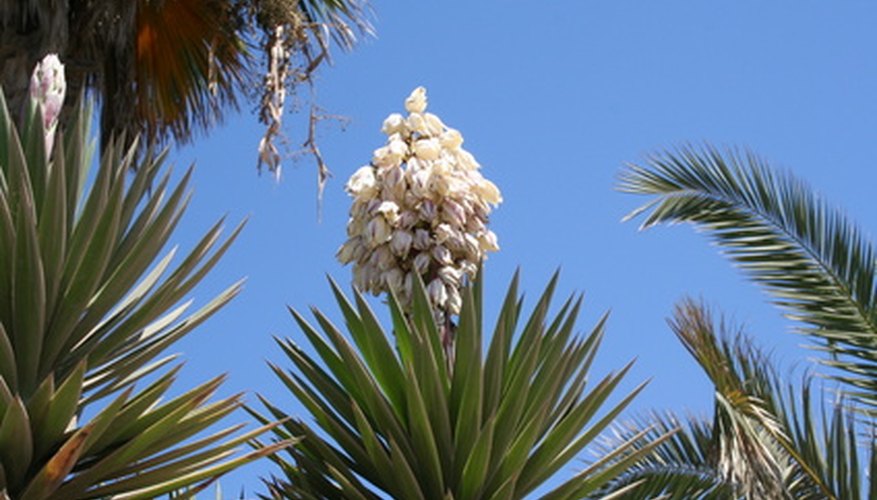 According to the University of Florida, as many as 56 varieties of yuccas grow across North America, with Adam's Needle, Spanish Dagger and Spineless yuccas among the most popular. From summer until fall, yuccas are adorned with 2- to 3-foot-high flower spikes. The blooms are fragrant, white and shaped like bells, making yuccas a desirable ornamental plant with many gardeners. Yuccas, in general, need little care to thrive, and with proper (and limited) cutting or pruning, you can enjoy your flowering and beautiful yuccas for years.
Wear thick garden gloves when cutting your yucca plant. If you plan to do more than just a few snips here and there, wear thick, long-sleeve clothing as well. Most yuccas have sharp spikes at the end of their leaves that will cut the skin.
Clip off spent flowers close to the bottom of the stalks after the flowers are finished blooming. You can also cut off the flower stalks early to enjoy in floral displays, if desired.
Cut yellow, brown, broken and diseased foliage anytime. Use sharp clippers or shears, or a hand saw if the branch is close to the base of the plant and is too thick to use clippers or shears.
Limit pruning and don't cut the plant down to the ground unless you want more yucca plants. According to the University of Texas at Austin, heavy pruning will only encourage new yucca plants to grow.