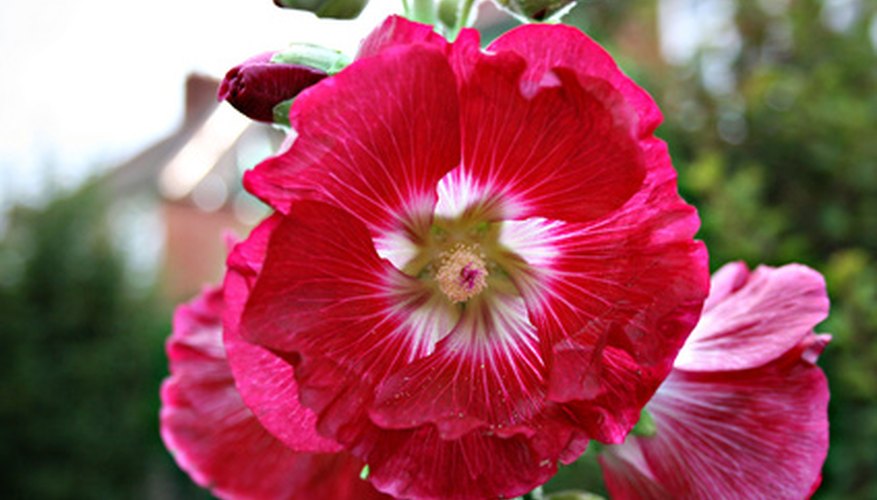 Tall plants along borders help to define the garden and provide a commanding backdrop to the space. Grown in a wide range of heights and colors, tall blooming plants bring in color to the garden for a stunning design. Complement surrounding flowers by bringing in similarly colored flowers. For instance, in a "hot" garden, plant flowers in fiery shades of red, orange and yellow. Have fun adding your favorite plants to create your own landscape design.
Black Magic Elephant Ear
Black magic elephant ear (Colocasia esculenta 'Black Magic') is a perennial with an aggressive growth rate and clumping form. Growing 3 to 6 feet tall, black magic is an ideal plant to grow as a garden border for their magnificent height and stunning foliage. The dark purple to black leaves are heart-shaped to sit atop the dark purple stalks. The undersides of each leaf are dusted and appear to be chalk-like. Black magic does well in wet conditions, like the border of a water garden. They grow best in part shade and average garden soil. To grow in other areas of the garden, divide in winter or early spring. Plant black magic elephant ear in USDA hardiness zone 11.
Kopper King Hibiscus
Kopper king hibiscus (Hibiscus 'Kopper King') is a perennial flower that grows 3 to 6 feet tall and 1 to 3 feet wide, ideal for planting in a garden border. The ruffled flower heads are white to pale pink and grow 10 to 12 inches wide with their signature red eye. Blooming from midsummer to fall, kopper king hibiscus have copper to red foliage. The disc-shaped blooms attract butterflies to the garden for the quintessential garden feel. To promote a long flowering season, deadhead the spent blooms regularly. Kopper king hibiscus require full sun to part shade and moist, nutrient-rich soils to thrive. Plant in USDA hardiness zones 4 to 9.
Hollyhock
Hollyhock (Alcea rosea) is a perennial flower with tall, erect spikes that hold disc-shaped flowers that are single or double in form. Growing 6 to 10 feet tall and 1 to 3 feet wide, hollyhocks are stunning flowers planted in masses along a border for a showy summer display. They attract butterflies and bumblebees to the garden and sometimes require staking when overly tall. The blooms on hollyhocks emerge in early summer to last into midsummer. Flower colors on hollyhocks range from pink and red to white and yellow. They grow best in full sun and well-drained soil that is fertile. Plant in USDA hardiness zone 4.