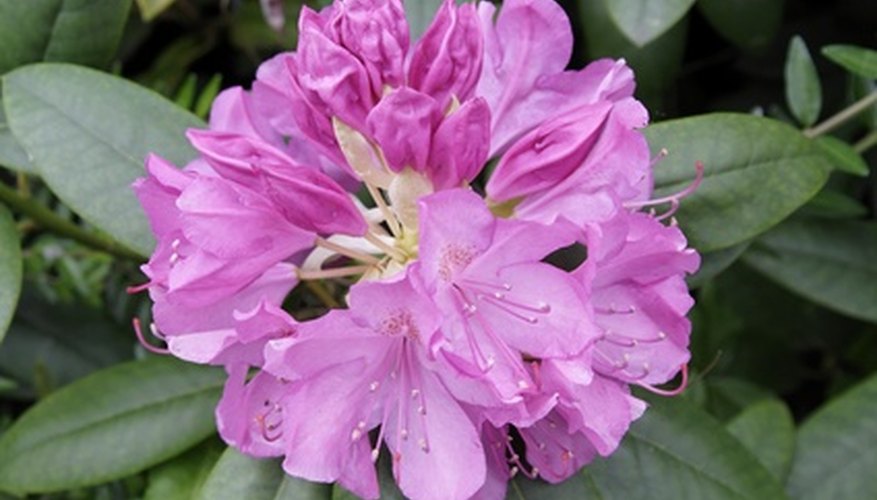 Shade-loving rhododendrons and azaleas are familiar even to non-gardeners. These spring bloomers brighten even deep shade. Some less-known flowering shrubs, however, perform equally well while providing garden novelty. Shade-friendly native plants often provide interesting bark or berries and autumn color as well as flowers. Mix them with more common shade shrubs to create your own distinctive landscape.
Carolina Allspice
Carolina allspice (alycanthus floridus) is a deciduous, round shrub up to 9 feet tall and 12 feet wide. It has dense, upright stems with large, glossy green foliage that become yellow in the autumn. In April and May, the stems bear maroon, magnolia-like blooms up to 2 inches across. Both the flowers and crushed leaves emit a pleasantly spicy fragrance, says Clemson University Extension Horticulture Specialist Karen Russ. Urn-shaped seedpods remain on the shrub through the winter. Carolina allspice performs best in moist, rich, well-drained loam and filtered shade. Prune to shape immediately after blooming. Remove root suckers to prevent plants from spreading.
Witch Hazel
Witch hazel (Hamamelis virginiana) is a shrub or small tree normally standing from 10 to 15 feet high. Like those of Carolina allspice, its crushed leaves--as well as twigs and bark--are aromatic. Native across the eastern United States from the Atlantic as far west as Oklahoma, witch hazel is a shade-loving autumn bloomer. As pale green summer leaves turn yellow, the trees' crooked branches produce crumpled, fragrant yellow flowers. They bloom even after the leaves fall. Plant witch hazel, recommends the Lady Bird Johnson Wildflower Center in part to full shade. It prefers in moist, rich, well-drained soil. Locations with acidic (pH below 6.8) are best.
American Bladdernut
America bladdernut (Staphylea trifolia) grows in moist, deep woods and thickets from Vermont to Florida and west to Oklahoma. Standing from 8 to 15 feet high, it has white-fissured greenish bark and dark green, three-lobed leaves. In April and May its hanging clusters of bell-shaped, creamy-white flowers appear. Three-chambered, bladder-like fruit follows, changing from green to brown as it ripens. This relatively disease-and-pest-resistant shrub likes full shade. Plant it in well-drained, moist pH-neutral loam for best results.
Juneberry
Juneberry (Amelanchier arborea) another spring-blooming shrub for shade, usually stands from 15 to 25 feet tall. Before down-covered green leaves emerge in April, it has hanging clusters of fragrant white flowers. Its attractive gray bark often has a red sheen. Tiny, purple-red edible berries follow the flowers. Foliage may provide red autumn color. Juneberry is susceptible to cosmetic damage from insects and disease. It is a good choice for woodland or pond gardens. Tolerant of sun, partial and full shade, it likes well-drained, moist acidic soil.