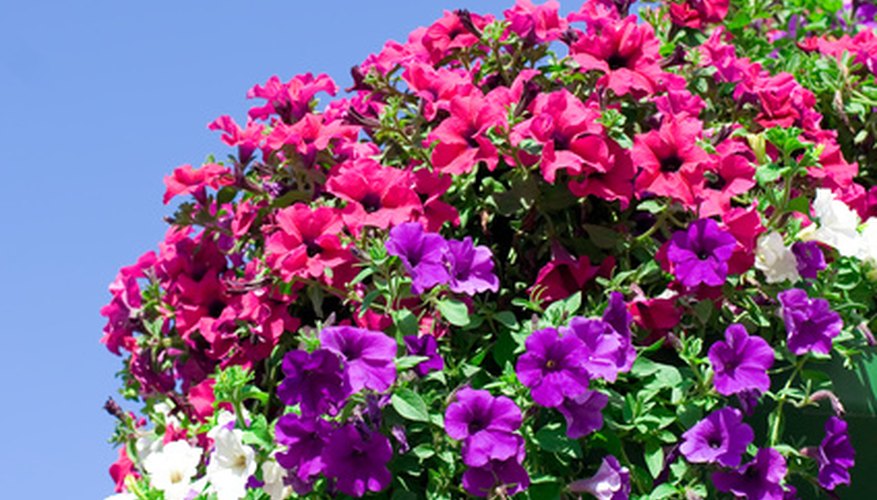 Summer-blooming plants fill the garden with color and vibrancy. Grown in many shapes, sizes and colors, they thrive in the hot summer sun when many plants and flowers are dormant. Oftentimes, summer bloomers require full sun and well-drained soils to thrive. Their ability to bloom in dry climates makes them a hardy plant group. Tucked into a perennial bed or along a garden path, they create a showy garden display.
Japanese Rose
Japanese rose (Rosa 'Blanc Double de Coubert') is a flowering shrub that produces fragrant blooms from spring to fall. Growing 6 to 10 feet tall and wide, Japanese rose shrubs have a moderate growth rate and clumping form. The semidouble flower is pure white with a yellow center. A butterfly attractant, Japanese roses attract these winged beauties into the garden. Japanese roses have thorny branches with wrinkled leaves and, according to Fine Gardening Magazine online, "the species takes its name from the Latin word rugosus, meaning 'full of wrinkles.'" Japanese roses grow best in full sun to part shade and well-drained, nutrient-rich soils. To prevent diseases, remove all fallen leaves around the base of the plant. Prune lightly in late winter to early spring to ensure a healthy plant. Plant Japanese roses in U.S. Department of Agriculture (USDA) hardiness zones 3 to 9.
Blanket Flower
Blanket flower (Gaillardia pulchella) is an annual flower that produces vibrant red or yellow blooms throughout the summer. Growing 1 to 3 feet tall and 6 to 12 inches wide, blanket flowers have a moderate growth rate and clumping habit. The daisy-shaped blooms surround the dark purple center. Blanket flowers are ideal tucked along a flowerbed or border for bright summer color. They require full sun only and well-drained, nutrient-rich soils. To promote a long blooming season, consistently deadhead the spent blooms. Plant in USDA hardiness zones 10 to 11.
Wild Petunia
Wild petunia (Petunia integrifolia) is an annual flower with a prolific blooming period that lasts from May through the first frost. Growing 1 to 3 feet tall, wild petunias have a fast growth rate and billowing form, ideal tucked into a hanging basket or container. The flowers on wild petunias are 1 ½ inches wide and appear in pale lavender to deep purple. Wild petunia does not require deadheading and grows best in full sun only. They require loamy soil with a moderate amount of moisture. They are hardy in all USDA zones.