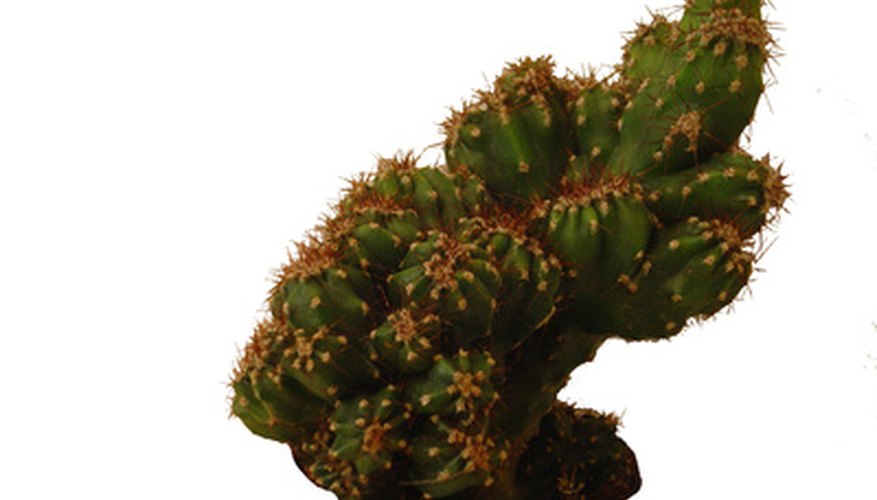 Desert cactus plants come in all shapes, sizes and textures with variously shaped and colored spines. They are generally easy to grow in average spring and summer conditions and cool winter temperatures. All they really need is a sunny location, minimally moist compost and fresh air. Here are interesting facts to help you decide if desert cactus is right for you.
Forced Blooms Indoors
Many varieties of desert cacti are forced to bloom indoors by allowing them to become slightly pot-bound. Blooms come in a wide range of colors, depending on variety. Echinocereus salm-dyckianus produces beautiful bright orange blooms, while rat's tail cactus has pink, tubular flowers and the Tom Thumb cactus is yellow flowering. Old Man Cactus never produces blooms, but is valued for its gray-green flesh and the long, silvery hairs that cover it almost completely.
Propagation
Most varieties of desert cacti root easily from stem cuttings or offsets that appear in spring or summer. Allow cuttings to dry for several days, (up to two weeks for large cuttings). Then insert into a growing medium of ½ peat moss and ½ compost. Propagate desert cacti from seed by germinating at temperatures between 70 and 80 degrees F.
Shape, Size and Texture
Desert cacti come in a wide variety of shapes and sizes. Stems may be tall and columnar; short, fat and spherical or oval; large and flat, branching out from the main stem found with the Opuntia family; plump and oblong, stacked atop one another; stacked orbs; or plump and oblong. Snowball cactus grows a tall, elongated stem up to 2 feet in height, while the silver torch cactus grows up to 4 feet; and some varieties of Echinofossulocactus grow orbs up to 9 inches in diameter over a period of several years. Stems also vary in texture: rough and bumpy, ribbed or quite smooth, depending on the variety.
Spines
The spines on desert cactus vary from long and straight, tiny and comb like, curved or barbed, to fine and hair like, depending on species. The white, hair-like spines of Espostoa melanostele, may wrap completely around the stem, as if encasing it in a spider-like gossamer, but turn black as the plant matures. The star cactus has long, straight spines, while bishop's cap is completely spineless.
Hibotan or Red Cap Cactus
The brightly colored stems of the Hibotan or red cap cactus lack chlorophyll and must be grafted onto a green cactus base. Cactus in this group (Gymnocalycium mihanovichii friedrichii) have stems that have no green, but are entirely red, orange or yellow.